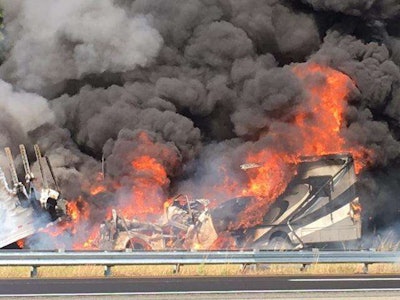 Just a day after I-95 in North Carolina reopened in both directions following flooding from Hurricane Matthew, a portion of the interstate is closed again after three major crashes Wednesday, including a fiery accident involving a tanker truck hauling hazardous materials and another accident involving three trucks that resulted in two fatalities.
The North Carolina Department of Transportation says I-95 South is closed between exit 97 and exit 81 due to the accidents and is expected to be reopened by Thursday evening after crews repair damage to the roadway. The northbound lanes were closed until early Thursday morning, but are now reopened.
Pavement repairs are underway on I-95 S between the I-40 interchange and U.S. 79 in Johnston Co. and is expected to open by this evening. pic.twitter.com/cRWW2CI0NR

— NCDOT (@NCDOT) October 20, 2016
According to a report from CBS affiliate WNCN, homes and businesses within a two-mile radius of the fiery crash were evacuated Wednesday afternoon. The report says the wreck occurred around 1:30 p.m. Wednesday near the 95 mile marker and caused an explosion that burned for several hours, adding that the truck was hauling an acidic substance.
The first wreck of the day, however, happened when a tractor-trailer left the roadway and struck the tree line and pinned the driver, according to WNCN's report. Investigators told WNCN that onlookers on the northbound side of I-95 caused traffic to slow, and a recreational vehicle ran into the back of the tanker at mile marker 95, which ignited on impact.
The third accident occurred near mile marker 88, the report states, when a RV was rear ended by a truck, spun around and hit by another truck. The second truck then hit a passenger car in the rear, which propelled the car into another tractor trailer, according to WNCN. Two people inside the RV were killed, the report states.
NCDOT suggests drivers take a detour around the closure by taking exit 97 (U.S. 70 West), then taking exit 318 onto I-40 East and getting back onto I-95 at Exit 81 near Benson.
I-95 shut down both directions at MM 90 in Johnston County both because of this fiery crash. #5OYS #wral pic.twitter.com/L9qFFcdFoN

— Monica Laliberte (@WRALMonica) October 19, 2016
Two people are dead in a 5-vehicle accident on I-95 in Johnston County. 1 of 3 separate wrecks on this highway today. #WRAL @NCDOT pic.twitter.com/xIAY30qB8T

— Adam Owens (@AdamOwensTV) October 19, 2016
Area evacuated after big rig wreck on I-95 in Johnston County https://t.co/ybF8RKr0aS pic.twitter.com/D34PS5vdZS

— WNCN (@WNCN) October 19, 2016
Fatal crash on I-95 in Johnston County, NC this afternoon. 2 dead, 3 airlifted. I-95 expected to be closed thru tomorrow. pic.twitter.com/Hzg5lP426L

— Matt Jacobs (@mattjacobsCLT) October 20, 2016