Allowing freight brokers another option for in-transit shipment visibility, the Trucker Tools app's "Load Track" feature has been integrated with Efreightsolutions' cloud-based transportation management system (TMS). The partnership thus allows for real-time freight tracking, driver messaging and electronic proof of delivery through the TMS.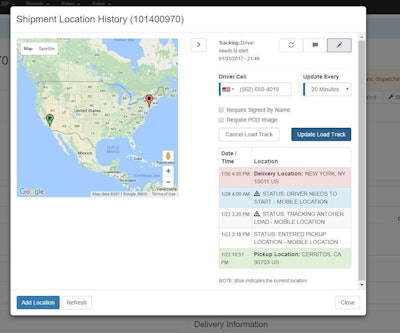 "Our partnership with Trucker Tools offers freight brokers and 3PLs that use our transportation management system seamless access to real-time shipment visibility," said Walter Mitchell, Chief Technology Officer of Efreightsolutions. "Our clients can easily use the integrated Load Track feature for any or all of their shipments to operate more efficiently and improve customer service."
When users click on truckload or LTL shipments in Efreightsolutions they see a detailed shipment profile that includes a "Start Load Track" option. By selecting this option, a form opens to enter the cell phone number of the driver assigned to the shipment. The form also has icons to optionally send the driver an instant message and request a "signed by" name and images of POD documents upon delivery.
When the form is completed, the TMS immediately receives GPS updates from Load Track through the Trucker Tools app on the driver's smartphone. Updates are displayed in the TMS as color-coded pins on a Google Map in the shipment profile.
The Trucker Tools app has been downloaded by more than 400,000 small carrier drivers and owner-operators. If the driver has not already downloaded the app, the Load Track integration triggers an instant text message with a link to download the app. By using the Load Track feature in the app, drivers can view pickup and delivery details for shipments, instantly message dispatch, and enter the "signed by" name of the consignee and capture POD document images. The images are automatically uploaded and attached to the shipment profile in Efreightsolutions to expedite the billing process.
Pricing for the integrated Load Track feature starts as low as $1.05 per load for freight brokers with high volumes. The location updates are continuous and in near real-time, with no limitations on the number of days and stop events from pickup to final delivery.
Update 2/17/2017:
In the days following the eFreightSolutions integration, Trucker Tools also announced a similar integration with MercuryGate's Transportation Management Software, a cloud-based TMS.