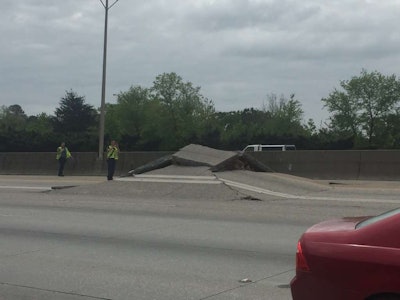 BREAKING: I20 east near Flat Shoals Road shutdown after pavement burst. Possibly caused by pipe. Police and fire on scene . pic.twitter.com/mZaCer1KGX

— Tom Regan (@tomreganWSB) April 17, 2017
Truckers traveling through Atlanta on I-20 westbound will be diverted after a section of the Interstate buckling Monday morning.
According to local news station WSB-TV, the buckling occurred southeast of Atlanta in the HOV lane between the exit for Flat Shoals Road and the Gresham Road overpass. Police say the buckling was caused by a natural gas leak.
WSB says drivers headed west can exit onto Flat Shoals Road and use Cook Road get back to I-20 on Gresham Road.
As of 12:30 p.m. Eastern, a repair timetable has yet to be discussed. Truckers are already dealing with increased traffic around Atlanta because of a bridge collapse on I-85 in the city that will not be repaired until at least mid-to-late May.
Officers turning cars around on I-20 after underground gas leak causes road to buckle. Live updates on Channel 2 https://t.co/kaAbgkT4o7 pic.twitter.com/CXvI0cIlLv

— WSB-TV (@wsbtv) April 17, 2017
Breaking: I-20 west near Flat Shoals closed after pavement buckles. Police say it was caused natural gas leak. Motorcycle crashed.

— Tom Regan (@tomreganWSB) April 17, 2017
This is 20 wb Flat Shoals ramp. Traffic stuck b/t ramp and closure turned around all all traffic stuck 20 wb forced onto Flat Shoals. pic.twitter.com/AKG9LW8RVg

— Jason Durden (@JasonDurdenWSB) April 17, 2017
We just can't catch a break — all lanes are closed on I-20 WB in DeKalb County, where part of the road buckled https://t.co/kaAbgkT4o7 pic.twitter.com/qAg33hMyMg

— WSB-TV (@wsbtv) April 17, 2017