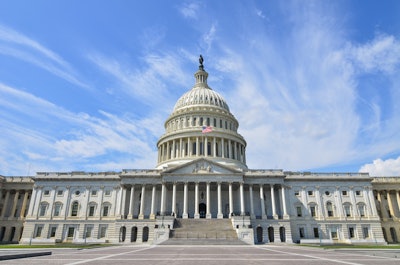 A new Senate bill that would, if passed, reform the federal regulatory process to cut some of the red tape and aim to make sure new regulations are "effective and efficient" for citizens has been introduced in the U.S. Senate.
The bipartisan bill, dubbed the "Regulatory Accountability Act," would offer more transparency and accountability in the federal regulatory process, according to bill co-sponsor Sen. Rob Portman (R-Ohio).
"We need a smarter regulatory process that promotes job creation, innovation and economic growth, while also continuing to protect public health and safety and the environment," Portman said. "This legislation would bring our outdated federal regulatory process into the 21st Century by requiring agencies to use the best scientific and economic data available, strengthening checks and balances, and giving the public a voice in the process."
The U.S. House of Representatives passed a similar bill in January. A key difference between the Senate's proposed bill and the House's passed bill is that the House version requires regulators to choose the "least costly" version of regulations, rather than the "most cost-effective," as laid out in the Senate's version.
Owner-Operator Independent Drivers Association board member and small fleet owner-operator Monte Wiederhold of Lebanon, Ohio, expressed a cautiously optimistic view of the efforts, one in part of a piece with the Association's "Knock Out Bad Regs" campaign, which aims to promote grassroots efforts to spur reduction in regulatory burdens on small-business truckers. Wiederhold particularly singled out the Senate bill's provision for effective cost-benefit analyses, likewise a provision to "create a review of these new rules every 10 years," he said. "We're not opposed to regulation, just bad regulation."
Key provisions in the bill would require regulators to allow public participation before a rule is proposed, rather than the current system in which comments are generally only accepted after a proposed version of a rule is published; require agencies to adopt the "most cost-effective" version of a regulations unless the agency can explain the additional benefits to a less cost-effective approach; and as noted establish an automatic review of rules that would regularly assess whether rules are doing what they were established to do.
The bill would also be the first significant regulatory reform in 70 years, according to bill co-sponsor Sen. Heidi Heitkamp (D-N.D.). "Can you imagine if we still used telecommunications systems from World War II?" Heitkamp said. "They might get the job done, but they would be slow, potentially faulty and incredibly inefficient. The same goes for the current 70-year-old law which still governs the way federal agencies propose and establish regulations."
–Todd Dills contributed to this report.