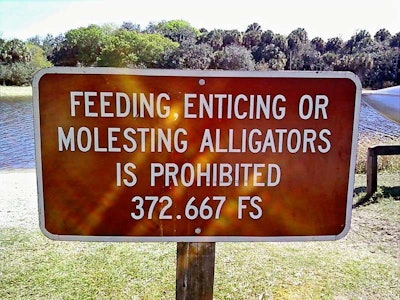 So I'm scrolling through my news feed the other day and come upon the headline "Man's attempt to kiss rattlesnake goes horribly wrong," and of course, after thinking "Well, duh," I clicked on the article to read it.
The headline pretty much sums it up. Some nutcase in Florida decided he needed to have some "alone time" with a rattlesnake his buddy had in a tank, tried to kiss it, and got bit on the tongue.
There are so many things wrong with that sentence.
First, why would anyone have a rattlesnake in a container? Well, it turns out, his buddy put it in a container after finding it in the yard, because he didn't know how to handle it. "Earl, is that a rattlesnake? Reckon I ought to put him in a container, or let him slither off, since I don't know how to handle him? Container? Yep. Here, hold my beer and hand me that stick over there…"
Second, what kind of demon has to grip your ever-lasting soul to make you think kissing a rattlesnake is a good idea, or would even be pleasant in any kind of way? I mean, what exactly is the thought process here? "That rattlesnake sure has a purty mouth, I think I'm gonna kiss it."
Third, I'd like to imagine his tongue got involved after opening his mouth to scream for help, but since the initial bite was on his tongue, I can't begin to go to the place where french kissing a rattlesnake is even remotely considered OK.
And finally, why in the hell didn't someone stop him? Do we really need to enact a "Friends don't let friends kiss/lick rattlesnakes on the mouth" campaign? I have actually seen posters about not letting your friends lick frogs or eat wicked mushrooms, but I pretty much figured every sane human being on earth was aware that kissing a rattlesnake may incur grave consequences. I guess not.
So next time you ramble on down to Florida, don't be surprised a "bit" if there are signs at all the rest areas discouraging you from trying to be intimate with a rattlesnake. For those of you familiar with the Florida rest areas, realize that the current signs regarding molestation of alligators likely originated from some obscure incident down in Polk County, involving a good ol' boy losing an arm while unsuccessfully trying to touch the no-no squares on an alligator. This could be a filthy lie, but seriously, someone tried to french kiss a snake, so …