Y'all ain't gonna believe this. We actually pulled it off. Please let me gush for a minute to thank and give a shout out to all our friends who helped. We are so honored to have been asked to help plan and organize this event. I am always in awe of how generous this industry is. They have truly stepped up.
Midwest Trucks and Equipment is pleased to host the 2nd annual Take Pride Truck Show in Brookville, Ohio, June 9-10, 2017. This year promises to be even bigger and better than last year's maiden show, with some of the finest working trucks in the country attending. Once again, trucking's own Brother of the Highway, Tony Justice, will be headlining on the Evans Cattle Company/DJ Hauling Stage, Saturday night at 9 p.m.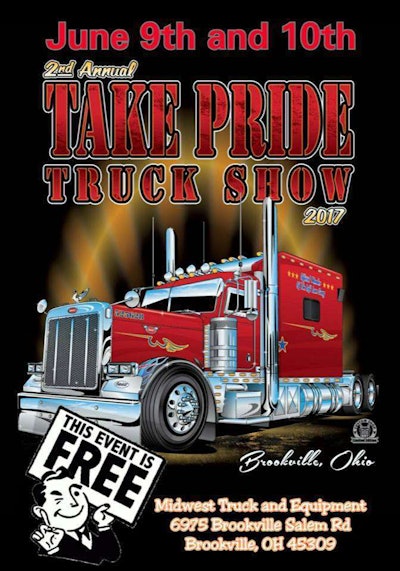 The fun doesn't stop with great musical entertainment and beautiful trucks. This family-friendly event has activities for all ages. Face painting, bouncy house and an arts-n-crafts booth should keep the kids busy while they're not casting their ballots for the "Kid's Choice" award, given to the truck with the most votes from our attendees under the age of 12. "Ace DeReu's Ice House" will grind out delicious shaved-ice goodies, with all proceeds going to TruckersFinalMile.org, the chosen charitable recipient for this year's show.
Other daytime events include a jake brake impersonation contest, as well as a karaoke contest with a twist – we pick the song you sing. A "Chicken Light Show" will begin both evenings at 9:30 p.m, to showcase the elaborate lighting systems and highlight the pride and dedication these trucks represent.
Prizes for all contests will be provided from sponsors and vendors. For a full list, visit the Take Pride Truck Show website. Trophies for the winning trucks will be provided by Lincoln Chrome, USA . There is no charge to register a truck for voting, all entries are considered "working class wash and show," and will receive a swag bag full of goodies, provided by 4 State Trucks and our friends at the Chrome Shop Mafia.
This event is free to the public both days, and includes five different musical acts, ranging from classic rock cover band to folk music to good old-fashioned Country and Western. There will be food trucks with plenty of good eats available. Vendors include Big Rig Chrome Shop, and show shirts will be available for purchase at the event, as well as band merchandise.
Come enjoy the best the Midwest has to offer!