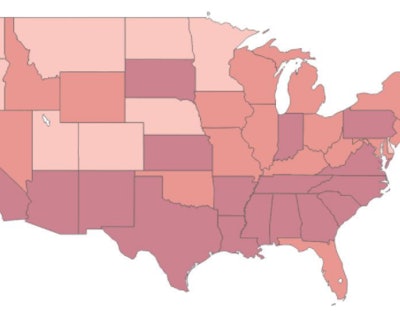 A 5:1 load-to-truck ratio on DAT Load Boards was seen for dry van freight last week. It's the highest load-to-truck national average since March 2014, when demand skyrocketed with polar-vortex-related severe weather and led a big rates rally on the spot market that year. "This is a great sign that June is going to be very good to carriers," notes DAT's Ken Harper.
To get to that number, as DAT notes, the company simply divides the number of load posts by the number of truck posts on the board, so it's a measure of activity there and not an absolutely exactly measure — more a barometer than a thermometer, as it were, given not every carrier posts its available trucks, in particular.
But when the number nationally or at the state level goes up or down, it can well be a good indicator of where rates will follow.
Van hot markets: – For the second week in a row, rates were up on more than 70 of the top 100 van lanes. Atlanta had strong volumes, especially considering it was a week that included Memorial Day, and Los Angeles continued to benefit from stronger agriculture and imports.
Not so hot: The steepest decline in pricing was the lane from Houston to Oklahoma City, which was down 8 cents per mile. Most other declines were only 1 or 2 cents per mile.
Hot reefer markets: Texas is still the top state for reefer loads, but California is closing the gap. Projections for Central California produce are still strong for June, so we're keeping an eye on the Fresno market.
Not so hot: Peak season is over in Florida, so outbound rates have tumbled on lanes leaving Lakeland and Miami. These will likely drop more in the coming weeks.