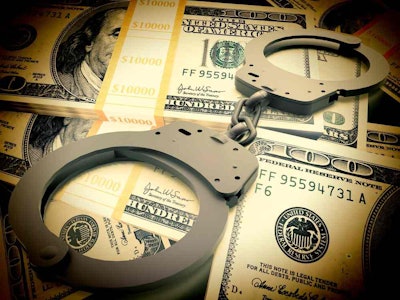 Action in four trucking-related crimes has recently been reported by the Department of Transportation's Office of Inspector General and NJ.com, including bank fraud, bribery, shutdown order evasion and unpaid tolls.
Utah brothers indicted for scheme to evade out-of-service order
Jay and Garrett Barber were indicted Sept. 6 on charges related to a scheme to evade enforcement of an imminent hazard order issued against their trucking company. The indictment includes 36 counts involving conspiracy, false statements, aggravated identity theft, and mail and wire fraud.
The Federal Motor Carrier Safety Administration issued the order in March 2012 against Reliable Transportation Services Inc., and its owner Jay Barber, based on numerous safety regulation violations. Instead of complying with the order, the brothers allegedly devised a scheme to continue operating their trucking companies.
Former FMCSA employee convicted on bank fraud charges
Darryl Williams, a former FMCSA and Federal Railroad Administration employee, was convicted Aug. 25 on bank fraud charges.
According to the OIG, from Nov. 2010 through Oct. 2016, Williams attempted to obtain money, loans and lines of credit by lying about his employment status, employer, job title, length of employment and salary. To support his applications for lines of credit, he allegedly falsified, forged or manipulated his DOT leave and earnings statements.
OIG says he falsely indicated on the applications that his job title was investigator with DOT.
Virginia DOT supervisors, trucking company owners indicted for bribery scheme
Two VDOT supervisors – Anthony Willie and Kenneth Adams – and four northern Virginia trucking company owners – Rolando Alfonso Pineda Moran, Shaheen Sariri, John Williamson and Elmer Mejia – were indicted on charges of conspiracy and fraud.
The indictment alleges that beginning in 2013, Willie and Adams used their positions as VDOT employees to enrich themselves by negotiating bribe agreements with several owners and operators of trucking and snow-removal companies. From the 2013-2014 snow season to the 2015-2016 snow season, Willie and Adams allegedly received approximately $140,000 in cash bribes from the trucking companies.
Trucking company owner charged with toll evasion
A New Jersey trucking company owner, Edwin Galvez, was pulled over earlier this month on the George Washington Bridge after police discovered he owed $11,500 in unpaid tolls, according to a NJ.com report.
The report states Galvez drove his truck through an E-Z Pass lane without paying, and a check of his plates showed he owed for the tolls and had 99 violations. Galvez, the owner of LaCieba Trucking, was charged with theft of services and toll evasion, according to the report.