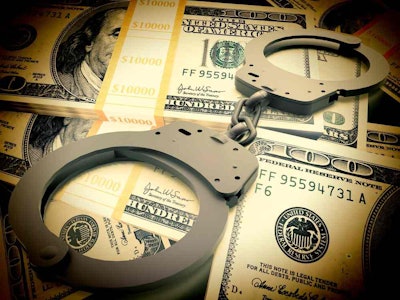 Action in six trucking-related crimes has recently been reported by the Department of Transportation's Office of Inspector General, Atlanta's WSB-TV, the Laredo Morning Times and NJ.com, including drug-related crimes, falsified medical exams, broker fraud and more.
Georgia trucker sentenced for homicide by vehicle
A Georgia truck driver was sentenced July 26 to 3 months incarceration, 9 months supervised release and 12 months probation for his role in the 2015 death of Cpl. William Solomon, a Georgia Port Authority police officer.
Robert Turner – who pleaded guilty in June to failure to exercise due caution, turn signal violations and second-degree homicide by vehicle – was found to be driving a truck at the Port of Savannah container yard when his truck struck and killed the officer. After the incident, Turner was found to be in possession of a bag with multiple prescription bottles, many of which were pain killers, according to OIG's report.
He was arrested on the scene for driving under the influence, and a post-accident blood test found cocaine in his system. Further investigation revealed that Turner's medical certificate did not indicate a chronic condition that required the use of medications found in his possession, and that he was not medically fit to drive a truck and was using a fraudulently-obtained medical certificate.
Trucker gets 30 years for drug trafficking
A Georgia court handed down a 30-year prison sentence to truck driver Ferrando Rodriguez on Aug. 8 after he was convicted of trafficking more than 400 grams of cocaine, according to a report from Atlanta news station WSB-TV. In addition to the prison sentence, he was fined $1 million.
The report states narcotics agents executed a search warrant of Rodriguez's truck in June 2015 and found $3 million worth of cocaine.
The report adds two other men, Jesus Ruben Rosillo and Javier Leonardo Rodriguez, are already serving sentences related to the case. Rosillo, who admitted to packing the cocaine into the truck, was sentenced to 25 years in prison and a $1 million fine; and Rodriguez was sentenced to 1 year in prison and a $300,000 fine for checking out a drop site to transfer the drugs.
Mexican trucker arrested with 1,500 pounds of marijuana on truck
The U.S. Border Patrol recently seized more than 1,500 pounds of pot from a truck at a checkpoint on I-35 outside of Laredo, Texas, according to a report by the Laredo Morning Times.
Cesar Enrique Reyes Elizondo, a Mexican citizen, was reportedly charged with possession with intent to distribute a controlled substance when agents found the marijuana inside his trailer. The report states Elizondo did not know he was transporting drugs.
The report goes on to state agents found the trailer with a tampered seal with 65 bundles of marijuana inside.
New Jersey trucker, truck owner arrested for unpaid tolls, fees
Two men were arrested in early August for several violations, including having almost $29,000 in unpaid tolls and other fees in New Jersey, according to an NJ.com report.
The driver of a truck, Robert Lewis Jr., of Jersey City, was pulled over after an EZ Pass sign indicated a toll had not been paid. Lewis then reportedly showed officers an expired registration, an EZ Pass transponder not assigned to the truck, and another EZ Pass transponder with 398 outstanding violations totaling $28,995 in unpaid tolls. The truck's license plates were also fraudulent, according to the report.
Police then arrested the truck's owner, Ganiyu Odubanku of Arden, N.C., when he arrived at Port Authority headquarters to retrieve the truck.
Kentucky trucking company owner sentenced for broker fraud
Elliott Campbell, co-owner of several trucking companies operating under Catts Auto Sales in Chavies, Ky., was sentenced Aug. 14 to 56 months in prison and 36 months supervised release, and was ordered to pay $136,410.87 in restitution for his role in a conspiracy to defraud shipping brokers.
OIG reports between October 2010 and February 2012, Campbell conspired with his wife, co-owner Melinda Campbell, and a dispatcher, Bryan Napier, to defraud brokers by agreeing to haul freight for a certain price, then demanding additional payments before delivery, essentially holding the freight hostage.
When brokers filed complaints, the Campbells and Napier formed new trucking companies and used aliases to continue the scheme without informing FMCSA they were associated with other FMCSA-regulated companies.