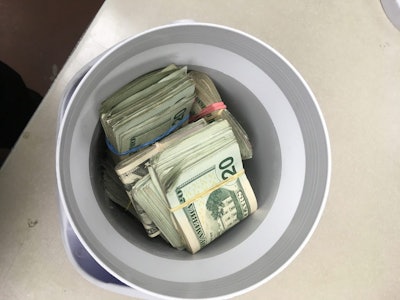 Action in two trucking-related crimes has recently been reported by the Department of Transportation's Office of Inspector General and the Arizona Department of Transportation, including an update on a New York doctor's CDL medical exam scheme and a large sum of money seized from a truck.
New York doctor sentenced in connection with fraudulent CDL medical exams
Gerald Surya, a former medical doctor, was sentenced July 26 to six months' home confinement, 5 years' probation, a $3,000 fine, a $50,000 criminal forfeiture and a $100 special court assessment. Last year, Surya pleaded guilty to a fraud charge related to the falsification of DOT medical exams.
Surya practiced medicine at JFK Medport, located inside John F. Kennedy Airport, and, according to the OIG, approved the use of unqualified medical assistants and interns to conduct DOT medical exams for CDL applicants. The medical assistants and interns reportedly forged Surya's name on medical forms and certificates, even though he was not present for the exams.
Arizona DOT seizes $29,000 from trucker
ADOT officers found $29,000 hidden in a small cooler during an inspection when a trucker and passenger arrived at an Interstate 40 port of entry near the New Mexico state border. ADOT says the truck had no registration, no trailer and "a suspicious story."
The officers found the money on Aug. 1 when they were given permission to search the cab of the truck for paperwork. The trucker and passenger told the officers at the Sanders Port of Entry they didn't know about the money, and that they had been sent by the truck's owner to pick the truck up in Gallup, N.M., where it had allegedly been abandoned.
The officers checked the truck's VIN and license plate in their system and found that the truck started its journey in Sacramento, Calif., and traveled through Utah, Colorado, Kansas and New Mexico before entering Arizona. ADOT also says the truck didn't pick up any cargo along the way.
A K-9 unit searched the truck and did not find drugs, ADOT says, but the dog did pick up the residual scent of drugs "at various spots along the vehicle." The dog also allegedly alerted officers the money found in the truck had the scent of drugs.
The two men were arrested at the scene and booked into the Apache County Jail on misdemeanor charges, including providing false information and commercial vehicle violations.