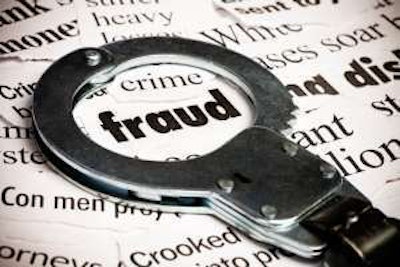 Action in six trucking-related crimes has recently been reported by the Department of Transportation's Office of Inspector General and the Texas Comptroller:
Two California DMV employees plead guilty in CDL fraud
Lisa Terraciano and Kari Scattaglia, employees of the California DMV, pleaded guilty Nov. 3 for their roles in a conspiracy to sell Class A CDLs without the buyer having to take or pass the required tests.
OIG's investigation revealed the pair accessed the DMV's database and altered the records of applicants to fraudulently show they had passed the required written tests, when the applicants had not passed, and in some cases not taken, the tests. Scattaglia was also found to have altered records to show applicants had also passed the driving tests.
The investigation determined that Terraciano caused at least 148 fraudulent CDLs, including permits, to be issued, and Scattaglia caused at least 68 fraudulent CDLs, including permits, to be issued.
California woman pleads guilty in CDL drug testing scheme
The former owner and operator of Advanced Substance Abuse Programs in Redding, Calif., pleaded guilty Oct. 20 to mail fraud and false statements to a government agency for failing to follow the law with random and pre-employment drug testing services to motor carrier drivers.
OIG reports Demetri Dearth collected urine specimens from commercial drivers between March 2009 and February 2010, but did not forward the specimens to certified labs as the law required. Instead, she created false Custody and Control Forms, stating the specimens had been released to FedEx to be sent to a lab. The urine samples never left Dearth's lab, according to OIG.
She also reportedly falsified reports indicating a medical review officer (MRO) had reviewed the results of urine tests when the tests had never occurred. The false reports named legitimate MROs, provided their addresses and presented forged signatures.
Suspended PA chiropractor pleads guilty to medical exam fraud
Joann Wingate, of Mechanicsburg, Pa., pleaded guilty Nov. 7 to wire fraud and false statements for violations of the Federal Motor Carrier Safety Administration medical exam and drug and alcohol testing programs.
OIG's investigation found that Wingate falsified FMCSA-regulated medical examiner's certificates and drug-testing chain of custody forms, forged documents by using the identity of an unsuspecting licensed physician and falsified other documents by claiming to be a medical review officer. She also allegedly continued to perform FMCSA-regulated medical exams for CDL holders, for payment, after her chiropractic license was suspended in 2013.
Wingate allegedly admitted to unlawfully performing DOT medical exams and submitting false medical examiner's certificates to state DOTs. She also admitted to contracting with a trucking company to handle its DOT drug and alcohol program requirements in exchange for payment, even though she wasn't qualified as an MRO.
FMCSA suspends Missouri medical clinic, owner and chiropractor
On Nov. 1, FMCSA suspended David L. Biersmith and his business, Industrial Medical Center (IMC) in Independence, Mo., and chiropractor James Lindsey from doing business with the federal government. The agency is also proposing to debar Biersmith, IMC and Lindsey from doing business with the government for five years.
On April 20, Biersmith pleaded guilty to making false statements and to healthcare fraud related to fraudulent medical exams of commercial truck drivers and veterans. OIG states he did not have a medical license or other medical credentials, but he signed the name of a legitimate chiropractor, without permission, on medical reports for at least 65 truckers.
Florida man convicted of fuel tax fraud, credit card abuse in Texas
Daniel Danger, 51, was sentenced Oct. 11 to 10 years in prison for transporting motor fuel without shipping documents, evading motor fuel tax and tampering with physical evidence, and two years in prison for credit card abuse, following an investigation by the Texas Comptroller's Criminal Investigation Division. Danger was also fined $10,000.
California man pleads guilty to illegal transportation of fireworks
Ernesto Alvarez Jr., of Long Beach, Calif., pleaded guilty Nov. 2 to illegally transporting hazardous materials. OIG says he transported more than 8,000 pounds of illegal fireworks in a rental truck without hazmat placards.
The case began in June 2016 when federal and local law enforcement conducted a warranted search of a warehouse in which they found large quantities of illegal fireworks in the warehouse and in a rental truck outside. Alvarez reportedly admitted the fireworks were his, and that he was responsible for transporting them into California from Nevada.