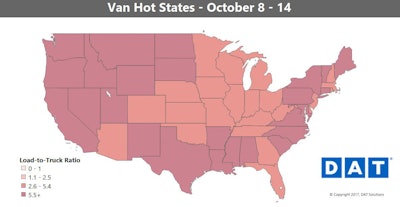 After surging for several weeks straight culminating in the Oct. 2 week of the electronic-logging-device mandate protests, van spot market rates moderated a bit the week of Oct. 8-14. Looser truckload capacity led to a lower national average, interrupting what had been seven straight weeks of increases. The decline could be short-lived, though, given load-to-truck ratios around the nation remain generally and high, freight volume has surged out of California and other western states, and demand is high on many eastbound lanes.
Hot markets: The "loose" capacity is relative, as it were — only loose when compared to recent weeks. As you can see in the map above, trucks are still in high demand across many parts of the country. Los Angeles was No. 1 for spot market van loads last week, with a huge uptick in volumes. Load counts were also up in Texas and Chicago. Van rates rose on most of the inbound lanes to Buffalo, N.Y., which is a gateway market for exports from the United States to Canada, and the Canadian economy is projected for fast growth.
Not so hot: Outbound rates continued to slide in Columbus, Ohio, coming down from the huge increases that were a result of the supply chain disruptions caused by Hurricanes Harvey and Irma. Rates there are still 7 percent higher than they were a month ago, though.
For reefers, volumes were up big in Ontario, Calif., but the Upper Midwest had all the top increasing lanes last week. Florida reefer volumes also recovered last week, though there's no shortage of trucks in the area.
Hot markets: Reefer rates were up sharply on high-traffic lanes out of Grand Rapids, Mich. Apple season is winding down in Michigan, though, and volumes were way down, so those prices could come back down soon. Capacity is still tight in potato-shipping regions like Southern Idaho, Southeastern Washington and Eastern North Dakota.
Not so hot: Reefer rates slipped on some outbound California lanes, despite good volumes. This could've been due to high inbound volumes, which meant that shippers and brokers had an easier time finding trucks to cover those loads. Wildfires in the northern part of the state may have also played a role. Prices declined sharply out of Chicago.