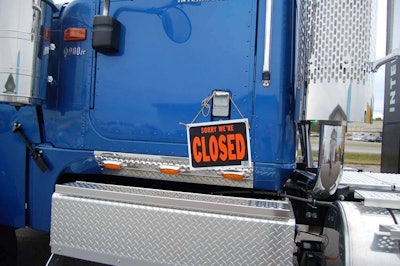 A Georgia-based owner-operator has been effectively shut down by the Federal Motor Carrier Safety Administration for his involvement in a fatal crash and a bevy of other safety violations.
According to FMCSA, on Aug. 11, Dwight Anthony Preddie, co-owner of Keep On Trucking, was traveling on I-95 in Virginia when he failed to slow down from an estimated 63 mph entering a construction zone, where he hit the back of a Jeep Grand Cherokee that was going an estimated 5 mph. The impact killed the driver of the Jeep and critically injured the passenger, FMCSA says.
Preddie was charged at the scene with reckless driving, driving with a suspended license and operating an uninsured vehicle. A police investigation also found that he was in violation of federal hours-of-service regulations at the time of the crash.
A post-crash investigation by FMCSA found the company was in violation of several safety regulations, including:
Failing to comply with any driver qualification requirements. The investigation found Keep On Trucking had allowed its drivers to operate without a valid driver's license, or without possessing a valid medical certificate.
Failing to monitor its drivers to ensure compliance with hours-of-service regulations.
Failing to monitor its drivers to ensure the safe operation of the company's vehicles.
Failing to ensure its vehicles were properly inspected, maintained, repaired and met minimum safety standards.
Additionally, the company was found to not have the federal operating authority required to conduct interstate commerce, or have the minimum levels of insurance required to operate.
According to the Compliance, Safety, Accountability Safety Measurement System, Keep On Trucking operated one truck with two drivers.