I'll be 50 years old on the 25th of January, and while it hasn't always been a smooth ride, I've had a pretty good run thus far. I really can't complain about much more than I already do, and I still have all my fingers, so life is pretty good.
I've noticed lately, however, that I read or hear things and think, "Who is really that stupid?" a lot more than I did when I was younger, and admittedly, less experienced. Here's something I've learned: You have to do a lot of stupid things to learn enough to ask that question with any authority, so don't be so smug when you ask it. (Say that three times real fast.)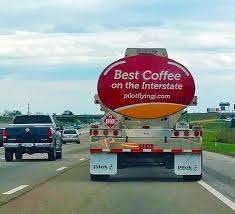 I've done some really dumb things, and I'm not ashamed to admit I really believed Pilot Flying J hauled their coffee around in tankers when I first came out on the road with George. I couldn't imagine why, but the dang thing says "Best coffee on the interstate" right on it, so I figured it was one of those magical trucking things I was previously unaware of. I'm pretty sure I'm not the only person who believed this at one time or another, trucker or not. (You don't have to say anything, I can tell by the look on your face it's true.)
Life is all about compiling experiences, and learning from them, and passing knowledge on to the next generation, and all that happy crap. I realize we're supposed to be patient in our teaching and stewardship of the younglings, but I'm here to tell ya, if you're over the age of 8 and eat a Tide pod on purpose in my house, you're banished. I'm not even going to ask "What is wrong with you?" because I'll be too busy packing your bags. Here's something I've learned: Everyone has their limits, and mine is the Tide pod thing. Tide is expensive, and if someone is going to eat laundry detergent knowing it will make them sick, they're going to eventually be costly in more than the Tide budget. Seriously. Cut it out.
So really, life is pretty simple. Learn from your mistakes, don't expect your coffee to arrive in a tanker truck, refrain from eating laundry detergent at the Parker house, and try to keep all your fingers. Easy peasey, right?
(Be safe out there. People are depending on you to deliver their Tide pods, so society can do laundry and thin the herd. It's called "multi-tasking.")