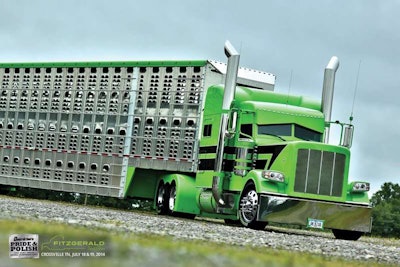 Update: Both chambers of Congress have passed the spending bill, exempting livestock haulers of ELD compliance until the end of September.
The U.S. House late Wednesday released the text of a $1.3 trillion spending bill that funds the U.S. government through the end of the 2018 fiscal year and, notably for trucking, exempts livestock and insect haulers from the electronic logging device mandate through the end of September.
However, the bill skips — at least for now — reforms on driver pay and breaks sought by some trucking groups, like the American Trucking Associations and the Western States Trucking Association. The two groups had lobbied for Congress to include a so-called Federal Authority provision (also known as the Denham Amendment), meant to rein in states' authority in regulating drivers' work schedules. The provision would block states from requiring carriers to give drivers paid meal and rest breaks and protect carriers from being required to pay drivers for non-driving tasks.
The provision could still be added to the Consolidated Appropriations Act of 2018 via the amendment process. Current federal funding expires Friday, however, so lawmakers in the House and Senate will attempt to expedite the bill's passage.
Unlike two ELD waivers issued by FMCSA to livestock haulers, Congress' 2018 spending bill does not grant an ELD exemption to truckers who haul agricultural commodities. Ag haulers will still need to adopt an ELD by June 18. Under Congress' budget bill, livestock haulers and insect haulers will have until the end of the 2018 fiscal year to switch from paper logs.
DRIVE Act seeks to lift 21-year-old minimum for interstate truckers
A separate bill filed Wednesday in the House would allow drivers under 21 years old to operate interstate. Currently, federal law restricts interstate trucking to CDL holders 21 years and older. However, most states allow drivers 18 or 19 and older to operate intrastate.
The DRIVE Act, supported by ATA, would allow drivers 18 and older to operate across state lines, so long as they meet rigorous training requirements — at least 400 hours of on-duty time and 240 hours of driving time, both with an experienced driver training them. Training would also be restricted to trucks equipped with active braking systems, video monitoring systems and speed limiters set to 65 mph or slower.