This week's run-up to Easter marks the last week before the beginning of stiffer enforcement of the mandate for most truckers to utilize electronic logging devices for hours recording. The ramp up to that started last week, DAT notes, with a 3.6 percent increase in load posts on DAT boards. Load-to-truck ratios rose for all equipment types, and spot rates held firm.
They may, however, move higher before the end of this week:
Van sat at $2.13/mile for a national average, down a penny compared to the previous week, but volumes are building.
Flatbed: $2.52/mile, up 2 cents to the highest rate since Summer 2014.
Reefer: Unchanged at $2.40/mile for the fourth week in a row.
It's worth noting that the national average price of on-highway diesel was up 4 cents to $3.01/gallon, a four-week high. Spot rates incorporate a fuel surcharge, which typically moves up by about a penny for every 5 cent increase in the price of diesel.
As for this Sunday, DAT's early-February survey of mostly owner-operators (645 of them to be exact, a significant number for a survey though hardly a huge portion of the industry of course) showed results roughly similar to the 96 percent ELD compliance rate that the Federal Motor Carrier Safety Administration has been citing in recent times, including in a recent session at the Mid-America Trucking Show. (FMCSA bases its rate on evidence gleaned from roadside inspections.)
DAT reported that as of early February, 91 percent of carriers were ready for the ELD mandate — "81 percent have ELDs, 10 percent are exempt, and 2 percent plan to comply by April 1." Out of service orders as a result of ELD enforcement thus might not hit the supply chain with the equivalent of blunt force trauma, as it were.
If survey results are any indication, however, the parking situation is already doing so. Almost 9 in 10 survey respondents reported more difficulty finding a suitable parking spot for their trucks since December 18. From DAT's survey report, which you can read in full via this link: "87 percent said that it's harder to find truck parking since the mandate took effect."
How does that square with your experience these last few months? You can weigh in below:
More spot-market data for the week follows.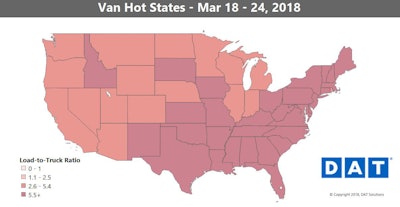 Hot van markets:Houston keeps humming, and rates are up 9 percent on major outbound lanes on average. Houston has been alternating with Atlanta as the number-one spot for van load posts over the past few weeks. Meanwhile, Buffalo had a bounce-back week, and it was in the mix on several key van lanes:
Columbus to Buffalo, up 30 cents to $3.73/mile
Philadelphia to Buffalo, up 23 cents to $2.93/mile
Buffalo to Charlotte, up 18 cents to $2.59/mile
Not so hot: No big surprise, Denver, where rates were down 0.5 percent last week and 2.5 percent over the past four weeks.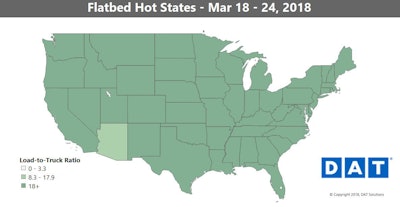 Flatbed load volumes rose 5.6 percent overall last week, building on a 9 percent increase the previous week. Rates were up last week on 50 high-volume flatbed lanes, while just 25 trended down.
Hot markets: Rock Island, Ill., is a source of farm equipment, which moves on flatbeds. Last week, 40 percent more loads left Rock Island compared to the week before, and the average rate rose 6 percent on the highest-volume lanes. Houston rates are close to $3/mile on heavily trafficked lanes — another good sign for truckers hauling out of the nation's biggest energy freight hub. Regional lanes to watch:
Rock Island to Grand Rapids, up 51 cents to $3.63/mile
Dallas to El Paso, up 53 cents to $2.40/mile