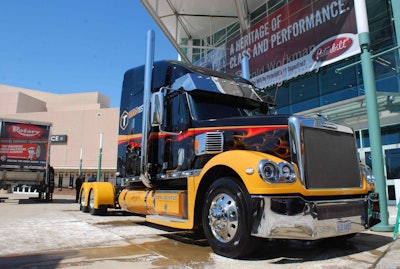 It was an interesting first day at the Mid-America Trucking Show yesterday, not least among attractions the quite familiar/formerly "The Precious"-dubbed 2004 Freightliner Coronado of George and Wendy Parker. Since Wendy moved on from her blog here on Overdrive, the Parkers' rig became the show vehicle for the Tough Tested line of products, and as such is parked prominently outside the North Wing of the Louisville Convention Center for MATS. Above, see what's probably the best shot I got of it, after a couple in early morning as George contemplated just what to do about the glacier crawling down the roof line.
It's gotten a nice makeover, though the paint work had been set down prior to the unit getting a 30-inch stretch to a 300-inch wheelbase, done by the crew at 4 State Trucks in Joplin, Mo.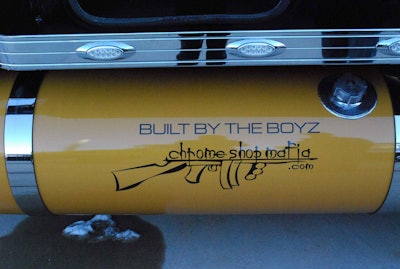 New front bumper and rear T-bar, a custom-built headache rack, and new diamond-plate decking are among the adds/customizations — and, yes, you're seeing that right, the rig doesn't have a fifth wheel. As Wendy intimated previously, they'll roll with the custom "Pupzilla" mini-rat rod built by Charlie Pacheco, eventually to sit on a rack over the tandems.
Couple more scenes from MATS
"ATA wanted to level the playing field, well we'll level the playing field." –small fleet owner and Independent Carrier Group head Scott Jordan on a goal to provide owner-operators tools to maximize rates, in a Thursday seminar running through some of the features of his ICG ProfitCalc spot/contract-bid app and Trucking for Profit program, which I spoke with him about in this podcast.