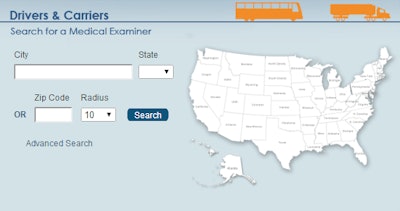 The Federal Motor Carrier Safety Administration has confirmed to Overdrive that no personal information on drivers was exposed in a recent attempt by an unauthorized party to access the agency's National Registry of Certified Medical Examiners. The registry, which is used by drivers to find DOT-certified medical examiners, has now been down for nearly 4 months.
A simple search by zip code is available, but the full portal remains down.
The agency said in December there had been "unauthorized access" to the system, prompting the site's outage. The agency has not provided further details, nor has it provided a timeline for when the site will come back online. However, it has said that it is "conclusive" that no personal information was exposed. "There was an attempt by someone to compromise the [registry], but it was unsuccessful," the agency said in a statement to Overdrive.
Though the hack and outage haven't caused issues with roadside inspectors checking drivers' medical certificates, it has forced examiners to backlog exam results until the site enables them to upload the results to FMCSA.
Collin Mooney, executive director of the Commercial Vehicle Safety Alliance, said in late January that the outage should not cause issues during roadside inspections. "The drivers are still required to take the medical [certificate] to the state and the state updates the CDL. Medicals are still able to be verified at roadside through CDLIS, not the national registry."