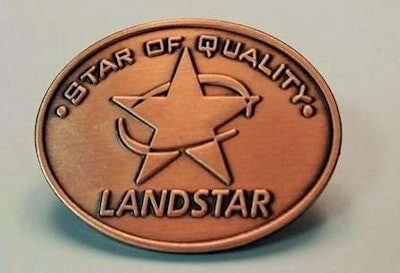 The Landstar "Star of Quality Award" recognition is given to agents and owner-operators within the fleet who "go above and beyond the call of duty." Those selected receive bronze, silver, gold or platinum lapel pins recognizing "dedication to the best in transportation services," the company says.
The May 2018 winners:
Platinum:
Shanon Chardlee Stark
(A platinum star is awarded in exceptional circumstances such as those faced with a life or death situation, Landstar emphasizes.)
Gold:
Bill Ater Jr.*, Allan Biedowicz, Jonathan E. Damm*, Daniel Gensch*, Linda Kennedy, Murray Kennedy, Lloyd Edward Lampman*, Samuel P. McVea*, Thomas Moody*, Leslie Osborn*, Jeanette Simpson*, Sandy Lee Smith, Robyn Eve Taylor*, William Asher Taylor*, Dennis Wimberley
*An asterisk the names above denotes a "Going Beyond the Gold" reciepient, who's received multiple Gold Star awards.
Silver:
Carlos Alvarez, Kenneth E. Armes, David Arnold, Maurice Jerrell Jones, Antonio C. Mercado, John A. O'Brien, Ricky Lamar Patterson II, David Milton Pearce, Michael Sage, Jeannetta Louise Warner, Gary White, Glen R. White, Dallas D. Wood, Pamela Kay Wood
Bronze:
J.William Anderson, James Brian Andrews, Keith J. Belt, Desmond Rodrequis Bennett, Emilio M. Coe, Leroy I. Elzy, Tamra E. Fredendall, Edith Giacomo, Kody Giacomo, Gary Lynn Hoyer, Robert Andrew Kampras, Brad Everette Keller, Donald W. Knuth, Michael Joseph Kruzel, Debra Anne LaBree, James R. Lawson, Andrew Paul Martin, Darci Jane Martin, Sammy Alan McMurtury, Osvaldo Medina, Raul Medina Jr., Donald Mezzapella, Anthony A. Payne, Teddy Kollek Pounds, Donnie K. Raby, Mark William Rosian, David Adam Smith, Michael A. Stewart, Rodney Stewart, Anthony Allen Taggart, Billy Earl Tannehill, Gavin Edward Tookey, Tammy Darnell Tookey, Jeffrey W. Zerblis