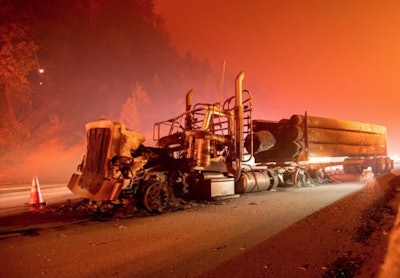 Embed from Getty Images
Update, Sept. 10, 11 a.m. PDT: I-5 has reopened between Redding and Mt. Shasta, with travel reduced to one lane in each direction, according to the California Department of Transportation. The California DOT is telling motorists to expect delays and slow-moving traffic. Flammable vehicles are not allowed.
As of Monday morning, a 50-mile stretch of Interstate 5 in California remains closed in both directions due to a wildfire that ripped through the Shasta-Trinity National Forest over the past week.
In addition to closing the highway and forcing motorists to reroute, the ongoing natural disaster forced many truckers to remain stranded on the highway or, worse, to abandon their trucks and loads on the highway when the fire swept up to I-5 late last week.
These photos from Getty Images (above and below) show dramatic views of the trucks left to burn on the Interstate. The Los Angles Times last week reported that nearly 20 trucks were abandoned on I-5 last Thursday.
Embed from Getty Images
Embed from Getty Images
Embed from Getty Images
Embed from Getty Images
Dozens of trucks stranded as the Delta Fire keeps a 45 mile stretch of I-5 closed in both directions north of Redding. #DeltaFire pic.twitter.com/NwEAb8PfiT

— Jodi Hernandez (@JodiHernandezTV) September 6, 2018