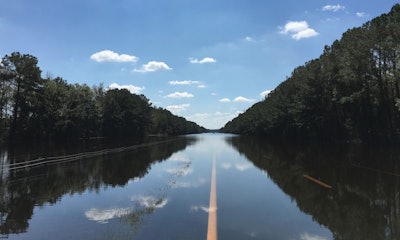 Update – Monday, Sept. 24, 4:30 p.m. EDT: I-40 near Wilmington, North Carolina is now open in both directions with two eastbound lanes and one westbound lane open.
https://twitter.com/NCDOT/status/1043189627249733632
More than a week after Hurricane Florence made landfall on the coast of the Carolinas, I-40 in North Carolina remains closed due to flooding, along with a number of smaller highways in the eastern part of the state.
According to the North Carolina Department of Transportation, I-40 is closed between state highway 41 (exit 385) and Wilmington. Much of southeastern North Carolina is still affected by flooding as well, NCDOT says. As of 6:30 p.m. Sunday, a total of 455 roads remained closed in North Carolina.
I-95 in both North Carolina and South Carolina has reopened.