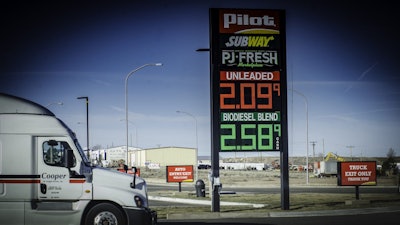 A 4.2-cent increase in the country's average diesel fuel price during the week ending Oct. 1 pushed the national average to its highest point in nearly four years, according to numbers from the Department of Energy.
The U.S.' average price for a gallon of on-highway diesel is now $3.313, the highest diesel has been since the week ending Dec. 15, 2014, when fuel hit $3.419 per gallon nationwide.
During the most recent week, prices increased in all regions, with the most significant increase being seen in the Midwest region, which saw a 6-cent jump.
California, which saw a 5.2-cent increase during the last week, topped the $4 per gallon mark with prices now at $4.038 per gallon, followed by the West Coast less California region at $3.506 per gallon.
The cheapest fuel can be found in the Gulf Coast region at $3.079 per gallon, followed by the Lower Atlantic region at $3.18 per gallon.
Prices in other regions, according to the DOE, are:
New England – $3.305
Central Atlantic – $3.447
Midwest – $3.278
Rocky Mountain – $3.367
ProMiles' numbers during the week also saw fuel prices jump considerably by 4.3 cents, bringing its national average to $3.241 per gallon.
According to ProMiles' Fuel Surcharge Index, the most expensive diesel can be found in California at $4.002 per gallon, and the cheapest can be found in the Gulf Coast region at $3.096 per gallon.