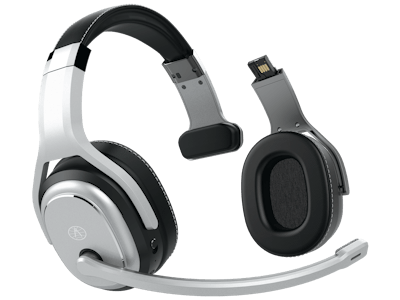 Even the best, most proficient truck driver on the road today needs a little help from time to time, and he can get it from some of today's top technologies.
BlueParrott's latest headset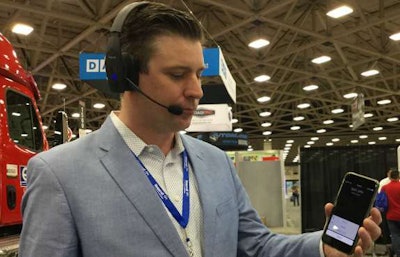 BlueParrott introduced the B550-XT at the Great American Trucking Show in Dallas in August, saying the new headset is "the world's first 100 percent voice-controlled over-the-head headset to be IP54 rated." The Bluetooth headset provides access to Google Assistant and Siri for all controls.
BlueParrott's new wireless headset features Voice Control Pro, to control calls, access voice assistants, and control apps, music and GPS directions. All a driver has to say is "Hello BlueParrott," to make use of these and other features of the B550-XT.
It also boasts 24 hours of talk time, 500 hours of standby and 96 percent cancellation of background noise. It also lets you wander up to 300 feet from Class 1 paired Bluetooth devices. Its customizable Parrott Button provides one-touch access to favorite features.
Rand McNally's combo headphone-headset
Rand McNally recently unveiled its ClearDryveTM 200, calling it a "breakthrough premium stereo headphone and noise- canceling mono headset in one."
ClearDryveTM 200 offers wireless stereo headphones with rich, clear sound. By removing an ear cup and positioning the high-quality boom microphone, the ClearDryveTM 200 becomes a headset with more than 90 percent of ambient noise eliminated.
ClearDryveTM 200 is not just flexible. The company said it was specifically designed for professional drivers. The headphones feature plush ear cups made of memory foam and covered in a soft, oil-resistant material to stay comfortable all day. Active noise cancellation blocks the most disruptive noises in a truck's cab — like wind and engine noise – eliminating the need to "crank up the volume" and preserving hearing.
Additionally, the Bluetooth connection allows drivers to wirelessly connect the headphones to their smartphones up to 50 feet away, enabling them to stay connected and mobile while performing inspections and fueling up.
The ClearDryveTM 200's rechargeable battery delivers more than 20 hours of talk time, over 500 hours of standby time and more than 20 hours of music playback time. Controls on the headphones enable drivers to take calls, skip songs, and change the volume without having to touch their smartphones.
Convenient, portable Go Chair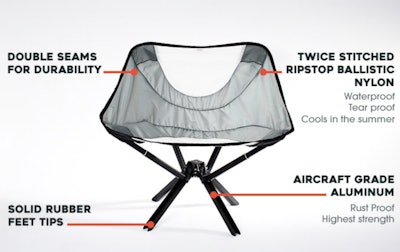 Truckers need a chair that is both comfortable and portable, and one that does not take up a lot of valuable cab space.
The Go Chair fills that bill nicely. The makers claim it folds down to about the size of a water bottle yet supports up to 300 pounds.
So now, when your driving day ends and you want to sit outside your truck and relax, you can unfold the Go Chair (with one hand, the company says) and have a comfortable seat.
Hamilton Beach's slow cooker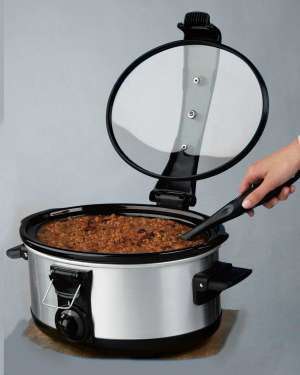 The Hamilton Beach 33461 Stay or Go 6-Quart Portable Slow Cooker is like a lot of the trucks on the highway today. While there are many with plenty more whistles and bells, this model gets the job done and is ideal for the sometimes particular job of in-cab cooking.
The six-quart Stay Or Go model from Hamilton Beach has plenty of capacity, features easy-to-use analog controls (High, low and warm settings) and has a hinged, attached lid that locks down and stays in place. Call us old school, but we like the no-nonsense approach of this slow-cooker.
Here's a sweet little bonus item: Proctor Silex 1.5-quart portable slow-cooker. We like this because it's small. This might just fill the bill if you're only cooking for yourself or space in your truck's kitchen is limited.
Night-driving glasses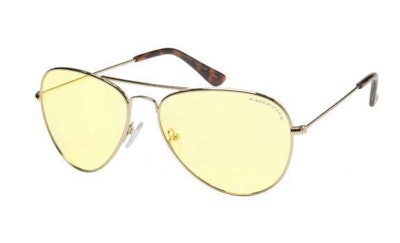 Night-Lite Driving Glasses from Eagle Eyes are meant to be worn when you drive at night. According to the company, they filter out high-intensity light from oncoming vehicles; enhance visual clarity and acuity; reduce glare so you see more clearly; improve contrast to help improve your ability to distinguish objects; and have a coating to protect against scratches.
Night-Lite glasses come in eight different styles or combinations. You can get them in the popular classic aviator style, the contemporary blade style worn by many athletes, and even clip-ons for those who wear regular glasses.
They also have a kit with four different types of lenses so you can adjust to various light conditions.