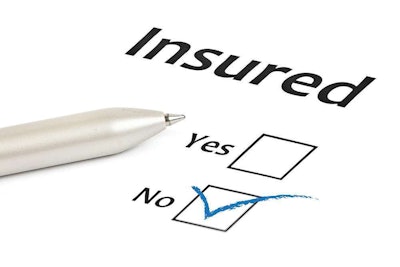 For owner-ops opting not to purchase health insurance during the current open enrollment period for both the federal and state health insurance exchanges ending December 15 for most for coverage that starts Jan. 1, there's a significant difference this year after moves last year that successfully repealed the mandate for individuals to buy health insurance or face a tax penalty. The penalty, assessed for the current tax year for individuals on 2019 returns and worth $695 (per-individual in the household for families) or 2.5 percent of income, whichever is greater, will not be assessed for the 2019 tax year for not carrying health-insurance coverage.
An occasionally predicted "death spiral" in insurance markets as a result, however, has not materialized, though Trump administration cuts in funding to advertise the open enrollment period for shopping health plans on the exchanges has in part resulted in "probably the quietest open enrollment we've had," says insurance broker Marc Ballard, part of the National Association of Independent Truckers' "Truckers Insurance Exchange" (TIE). The TIE's an avenue to the exchange and alternative health coverage for NAIT members and others. "But as far as changes go, this is probably the biggest" enrollment period yet.
In addition to the individual mandate to purchase health insurance no longer being a factor, "when the exchanges opened up in early November," Ballard notes, he was surprised to see insurance premiums on the national level being "about the same, or down," representing opportunity for new buyers and existing plan holders looking to shop their coverage for a better price or, as it were, better coverage.
If you're looking at plan renewal purchasing as an individual on the exchanges, don't be too quick to just re-up with the same plan you're on now, Ballard says, "I think that every year people should always shop. It's kind of like a car-insurance policy — things change in your situation" or in your area affecting rates. There's some chance better options exist, particularly this year. "It's definitely a good idea," whether shopping on the federal Healthcare.gov exchange or in one of the state exchanges, to "spend 15-20 minutes to make sure you have the best deal possible going into next year, especially now with the rates changing.
"If somebody had, say, a Bronze plan," Ballard goes on, making reference to exchange plan levels of Bronze, Silver and Gold, with breadth of coverage greatest at the Gold level, "they may find they could jump to a Silver plan for the same rate and have better coverage."
NAIT's TIE has staffed up internally to handle owner-operator shoppers looking at exchange plans and also AlieraCare alternative options in the health-ministry space. Keep in mind, however, such alternatives may or may not be bound by the Affordable Care Act's requirement that exchange plans cover treatment for preexisting health conditions.
That also goes for expanded short-term medical options newly made available with regulatory changes brought about by the current administration. "One thing that Trump has done is open the door for more options. A lot of people don't know that short-term medical is back in the market," Ballard says, with an expansion for such plans' length to up to 12 months, where you reapply "at the end of the 12-month period. They're used heavily by people who are in pretty good health."
More avenues for all coverage, too, are opening up that are designed specifically for pockets within the trucking community. In addition to well-known outlets like the TIE, the private exchange operated by the TrueNorth company, and the minimum essential coverage and more offered by the Owner-Operator Independent Drivers Association, digital broker Uber Freight this week announced a partnership with Stride Health that is something of a concierge service toward health insurance for carriers and independent owner-ops in its network.
The Uber Freight partnership with Stride Eric Berdinis, Uber Freight senior product manager, pitches as an extension of the company's overall philosophy to to be "more than just a business partner" to its carrier and driver partners. Stride is an online health-insurance search engine, essentially, that can enable users to quickly compare ACA-compliant plans as well as other alternatives and grease the skids for both independent owner-ops and small fleet owners looking to obtain health coverage for themselves or to provide it to their drivers, dispatchers and their families.
The Stride service can help users detect whether they're eligible for reduced premiums via subsidies and, Berdinis adds, "provide access to health care in a more streamlined, efficient and hopefully more affordable way." The company has set up a dedicated staff and dial-in number and contact email, too, that's specific to Uber Freight users, following a model it developed on Uber's ride-share side for drivers there.
Uber Freight also announced the availability of group vision and dental coverage to freight-partner carriers with competitive premiums. Company Senior Business Development Manager Guy Peterson noted "we have aggregated many truck drivers, and drivers on the ride side the business, and can negotiate for compelling discounts on vision and dental plans to pass along to owners and drivers."
In 2019, possibly as early as April, Ballard adds, new options may well begin to emerge in many states as a Department of Labor final rule goes into play allowing so-called "Association Health Plans," which will be newly available to be formed in particular for groups of self-employed individuals in the same industry or geographic area. While a lot of the details are "still to be determined on how that" will work exactly, says Ballard, "in a nutshell, if it becomes a viable option it's a game changer" in the area of health insurance groups for independent business.
The American Trucking Associations, notably, has voiced its support of the idea, and you can bet state and national trucking associations of all stripes are pondering possibilities for member services if they're following the rule changes. An association plan Ballard envisions as a "true type of medical insurance plan," ideal for for a group like NAIT or other business association for the self-employed.