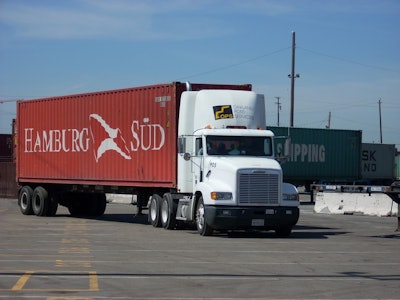 Previously in this series: A small fleet v. the Teamsters
For port-truck owner-operators and those running elsewhere in California, Jan. 1, 2023, is the day by which trucks must be emissions-compliant with a 2010 or newer emissions-specification engine.
The requirement will bring more trucks under the purview of the California Air Resources Board's Statewide Truck and Bus Rule and Drayage Rule. The rules now ban trucks powered by engines of earlier emissions specifications than the year 2007, with limited exceptions, on slightly different timelines.
Owner-operator Darril Lightburn says the Truck and Bus Rule was more or less responsible for putting him out of business when he couldn't afford to upgrade his pre-2007 truck. "I had to go from an owner-operator back to a company driver," he recalls. After saving as much as possible for six months, he returned to working as an owner-operator.
Leased to small fleet Angus Transportation, Lightburn brings in $80,000-$90,000 in annual income after expenses, versus less than half that during his company-driver tenure in Southern California. He's owned a 2009 International ProStar for four to five years now.
Lightburn's begun eyeing an upgrade to a newer model, he says, as is AB Trucking owner Bill Aboudi for his five 2009 company vehicles serving the Oakland port. Aboudi believes compliance with CARB's rule should be much easier this time around for many port operators. "Perfect sweet spot for truck prices is in the $40K range," he says. "2013 and 2014 models are hitting that now."
Of the 8,700 or so trucks registered in the Oakland port, he says, about "half of them probably meet that requirement today. With other trucks, operators are trying to get as many miles out of them as they can."