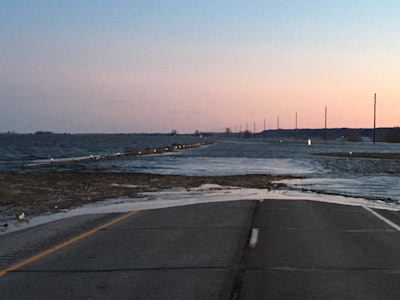 Photos from @RSoderlin & @JeffBundyOWH of the #flooding in #Nebraska. #Flood2019 Full slideshow—> https://t.co/WDbSYAwguG pic.twitter.com/e32WpqdvYZ

— World-Herald Photo (@OWHpictures) March 14, 2019
Some interstates and other major highways are closed in Nebraska, Iowa and Missouri due to flooding from melting snow from last week's "bomb cyclone" that hit the Plains and Midwest. Governors in Nebraska and Iowa have also issued states of emergency, exempting certain truck drivers from federal hours of service regulations.
Interstates affected by flooding in the region include I-29 in both Iowa and Missouri and I-680 in both Nebraska and Iowa.
I-29 in closed in Missouri from Rock Port (milemarker 110) to the Iowa state line. The closure extends into Iowa to Loveland (milemarker 71).
I-680 is closed in Nebraska at exit 13 near the Nebraska-Iowa state line. The closure extends into Iowa to the I-29 interchange.
A number of U.S. and state highways are also closed in the region. Updated closure information for Nebraska can be found here, updated information for Iowa can be found here, and updated information for Missouri can be found here.
Iowa Gov. Kim Reynolds and Nebraska Gov. Pete Ricketts have also declared states of emergency for certain counties within their respective states. Iowa's emergency declaration includes 36 counties, while Nebraska's includes 53 counites. The declarations waive HOS rules for truck drivers who are providing direct relief for the affected areas.
MIDWEST FLOODING: Aerial footage shows historic flooding in Nebraska and Iowa. https://t.co/Qudqb2Yqno pic.twitter.com/ZlyjFk5NvU

— CBS News (@CBSNews) March 18, 2019
This photo is from this morning on I-29 at the 67 mile marker just north of Crescent, Iowa. Remember, never drive through water on the roadway. Turn around, don't drown! pic.twitter.com/bXkMWvcZOq

— Iowa DOT (@iowadot) March 15, 2019