This is the second part in a three-part series on how owner-operators can work toward retirement. See the other two installments in the links below.
One big retirement planning decision involves when to start receiving Social Security payments.
For those seriously lacking money or good health, it can be a no-brainer to get the extra income flowing as soon as possible, at age 62. For others, there are good reasons to wait until what the Social Security Administration considers to be full retirement age, 66. Some people postpone starting until as late as 70 when bonus payments peak out.
Bonnie Neal, 76, has no savings and started her payments before reaching full retirement age. "I began my Social Security at age 63 because I thought I would need to quit driving," she says. Neal did stop driving but later renewed her commercial driver's license.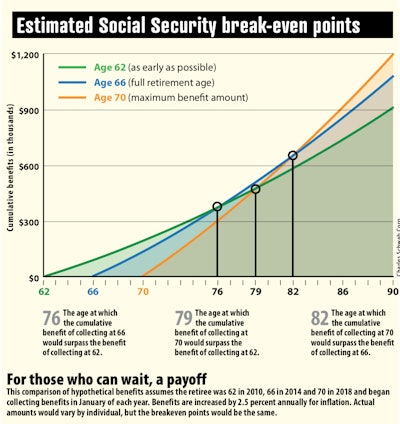 She works part time, delivering wood products for T2 Inc., based in Sweet Home, Oregon. That pay, combined with her Social Security payments of a little over $1,000 a month, gives her about $24,000 a year.
"Social Security cannot keep up with cost of living," says Neal, who has no plans to stop driving. "Someday, I will not pass the DOT physical, and that will be it. I'm going to keep going till they absolutely shut me down."
Owner-operator Phil Keith, who's leased to Wel Companies and drives team with his wife, is 60 and says he and his wife will "absolutely not" turn the spigot on Social Security at 62. "If you take it early, one, it doesn't pay that much, and two, they penalize you if you make an income."
He's right about the drawbacks of collecting Social Security before turning 66. When payments start at 62, they are about 30 percent less than the amount you would get at 66.
The longer you wait to start, the smaller those reductions are as you approach 66. Likewise, if you can delay starting to receive benefits beyond 66, your check will increase about 8 percent each year, peaking when you turn 70.
Keith, named 2017 Owner-Operator of the Year by Overdrive and the Truckload Carriers Association, says he expects to work until at least 66 before retiring. "We're all caught up with paying bills and paying the truck off," he says, and they have good retirement savings.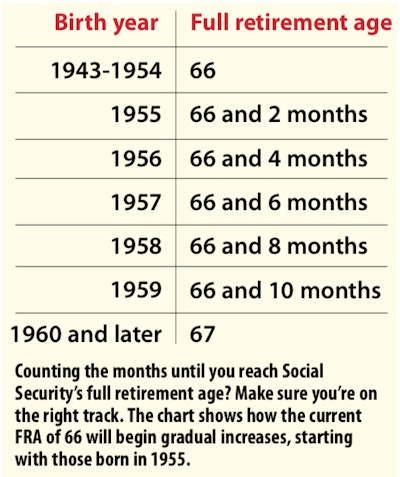 However, for anyone with enough financial security to consider waiting until turning 70, a big consideration is how many years it would take before the accumulated large payments would equal, then surpass, the accumulated smaller payments that began earlier. That point varies, depending on the size of payments and other factors. One factor is which set of start dates are compared: 62 vs. 66, 62 vs. 70, or 66 vs. 70.
The Social Security Administration and other sources put the break-even points at late 70s or early 80s. Someone who opts for the larger payments and lives beyond the break-even point comes out ahead with every subsequent check.
Why to collect Social Security early
There can be good reasons for beginning to draw Social Security payments as early as 62:
You're broke. There's no likelihood of significantly changing your gloomy financial picture, so it makes sense to get this extra revenue.
Your health is bad. There's a good chance you'll pass on before you see 80, in which case you'll amass more money by starting as soon as possible.
You'd rather have extra disposable income now than later. Even if you're blessed with a long lifespan, gradually declining health could mean your early senior years are best for travel and other costly diversions, so grab the money and enjoy what it can buy before it's too late.
You have little faith in Social Security's long-term stability. If you believe Congress will have to reduce or delay benefits to keep the program solvent – and there are sober arguments for that – then take the money while it's there.
You are a knowledgeable, disciplined investor. You will use the extra monthly payment to make investments that eventually will pay off better than what you'd get from living into your 80s and enjoying those bigger payments. Or, looked at another way, you will use the earlier Social Security payments for regular costs of living, allowing you to delay tapping some of your existing retirement investments.
—
Why to collect Social Security as late as possible
The potential of collecting thousands of dollars more if you live into your 80s or beyond isn't the only reason to delay starting benefits. Here are others:
A prolonged retirement is best served with strong income. More than one in three of today's 65-year-olds are expected to live to 90. If you end up in that group, you want not just a big nest egg to launch your golden years, but also a steady income stream with minimal risk. Perhaps the biggest retirement risk is living too long and running out of money. The largest possible Social Security check, fattened by annual cost of living increases, can help alleviate that concern.
If you don't want to quit working until you're at least at full retirement age, 66, then think twice about tapping Social Security before you turn 66. In those pre-66 years, your benefit will be cut by $1 for every $2 you earn above a certain level ($17,040 a year was the 2018 limit). So early benefits combined with continued work result in a double penalty, as Keith observed: lower benefits to begin with, which get reduced even further by your earnings. Once you reach full retirement age, there is no penalty on anything you earn.
Early Social Security withdrawals could reduce benefits for your spouse if he or she outlives you. A surviving spouse can claim a Social Security benefit based on his or her own earnings record, or a spousal benefit that provides half the amount of the deceased spouse's Social Security benefit as calculated at his or her full retirement age. So if you choose early withdrawals, therefore locking in a lower benefit when you reach 66, your spouse would have a permanently reduced rate if he or she later depends on a survivor's benefit.
If you want to make more informed estimates for your Social Security planning by considering different scenarios based on age, death and other factors, you'll find no shortage of simple calculators online from financial institutions. The Social Security Administration website has 11 calculators, covering topics such as estimated benefits, life expectancy and spousal benefits. Visit ssa.gov/planners/calculators.