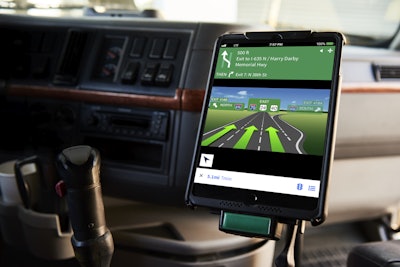 As of last Friday, customers with subscriptions to the Verizon Connect Reveal ELD and fleet management system can add-on a navigation service developed by the company. The Navigation mobile app helps provide turn-by-turn vehicle direction, based on their vehicle and load types, company spokesperson Nicole Worley says. For customers who rely on route efficiency, this is a solution that can have a very positive impact on their overall efficiency and bottom-line.
The new mobile app, the company says, can:
Help ensure safety and avoid tickets while avoiding low bridges or restricted tunnels
Help save time and money by reducing out-of-route miles
Provide up-to-date routes to avoid major accidents, construction and road closings
The Navigation app, like the Reveal e-logs, run on Apple iOS and Android tablets and phones — those interested can download from the AppStore or Play Store. From there, subscription purchase options apply.