Spot load posts increased 7% and truck posts edged down 5% during the week ending August 4, which pushed load-to-truck ratios higher for all equipment types, said DAT Solutions, operator of the DAT network of load boards.
But demand for trucks slowed as the week progressed, and spot rates entered the weekend well below the averages for July.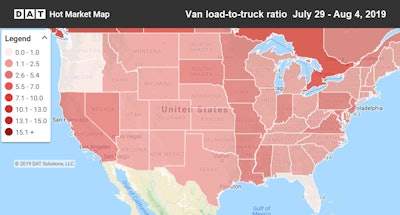 National average spot rates, through August 4
**Van: $1.80/mile, 4 cents lower than the July average
**Reefer: $2.09/mile, 10 cents lower than July
**Flatbed: $2.24/mile, 3 cents lower than July
Trend to watch: Reefer volatility
The national average reefer load-to-truck ratio increased from 3.5 to 4.2 last week. Spot reefer volumes were up in Los Angeles (11%) and Nogales, Arizona (11%), and McAllen, Texas (25%) along the border, but not enough to boost the average outbound rate. That could be changing this week. Pricing remains volatile on key lanes, a reminder that we're in produce season:
**Philadelphia to Miami rose 23 cents to $2.06/mile
**Los Angeles to Phoenix increased 7 cents to $3.25/mile
**McAllen to Atlanta dropped 29 cents to $1.96/mile
**Grand Rapids, Mich., to Cleveland declined 25 cents to $3.09/mile
Keep an eye on lanes out of Grand Rapids and other Midwest markets in coming weeks as apple harvests come in and van carriers compete for freight.
Market to watch: Philadelphia vans
Spot van volumes held steady in many markets last week — few markets were up or down by more than a percentage point.
One exception was Philadelphia, where spot volumes increased 4% and the average outbound rate added 7 cents to $1.75/mile as a bubble of van freight moved through the Northeast region.
**Philadelphia to Boston rose 15 cents to $3.54/mile
**Philadelphia to Buffalo was also up 15 cents to $2.34/mile
While the East was up, van volumes and rates slipped in the West. Los Angeles spot van volume fell 1% and the average outbound rate surrendered 3 cents to $2.25/mile.