National Truck Driver Appreciation Week continues this week through Saturday, Sept. 14. Companies and organizations association with the trucking industry are still recognizing truckers and showing their appreciation with videos, concerts, giveaways and more.
Some previously-announced NTDAW deals and appreciation can be seen here and here. Other driver appreciation includes:
Overdrive: The staff here at Overdrive wants to thank drivers for all the hard work put in each day to keep America moving. We put together the following short video as a way of saying "thank you" for all your hard work. Happy NTDAW from Overdrive!
---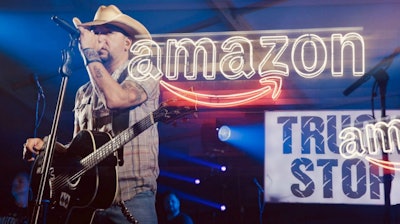 Amazon: Online retail giant Amazon brought in country music star Jason Aldean for a concert in Nashville for 200 of the company's line-haul partners and Amazon truckers. Aldean performed Monday, Sept. 9, in a pop-up truck stop at Nissan Stadium's parking lot just off I-40.
Aldean performed six songs during the set, including his new single "Way Back" from his new album, which arrives Nov. 22. He also performed several of his biggest hits including "My Kinda Party," "You Make It Easy" and "She's Country."
As part of the event, Aldean made a $25,000 contribution to Truckers Against Trafficking.
---
Kenworth: Truck manufacturer Kenworth produced a 3-minute video to honor America's truck drivers. The video focuses on a father and his young daughter working on a family project, and during that process, coming across drivers in a variety of Kenworth trucks who help them complete the project.
---
ATBS: Owner-operator financial services provider ATBS is giving away a truck driver appreciation prize package to a grand prize winner, and two $50 gift cards to two runners-up. For a chance to win, the company asks drivers to fill out their name and email address here. Everyone who enters will receive ATBS' free Owner-Operator Roadmap to Success e-book. The prize package includes a $50 Amazon gift card, ATBS RTIC tumbler, Trucker's Friend Demolition and Multitool, a seat massager and work gloves.
---
123Loadboard: Freight-matching service 123Loadboard is handing out 1,500 annual subscriptions to drivers valued at $1 million (subscriptions are $55/month) to honor drivers and celebrate the company's 15th anniversary.
---
Arkansas Trucking Association: The Arkansas Trucking Association invited truckers traveling along I-40 east of North Little Rock to join them Thursday, Sept. 12, at the TA-Petro for a free lunch, refreshments and games.
---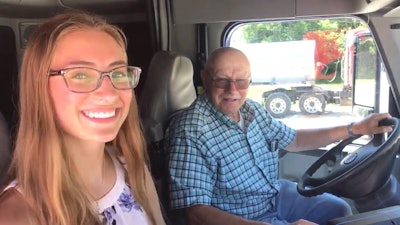 Acuity Insurance: To commemorate NTDAW, Acuity sponsored an essay and video contest for high school students in which students submitted stories displaying their knowledge of the issues facing truckers and the trucking industry while thanking drivers for what they do. A total of six winners were named:
First prize, $2,500: Sara Mears, Appleton, Wisconsin
Second prize, $1,500: Gibeon Robbins, Coalville, Utah
Third prize, $1,000: Ashlyn Smith, Marion, Utah
Honorable mention, $150: Gabrielle Robbins, Coalville, Utah
Honorable mention, $150: Jimmy Fields, Orland Park, Illinois
Honorable mention, $150: Karmyn Jarzemski, De Soto, Wisconsin