Trucking news and briefs for Monday, Nov. 18, 2019:
Drug/alcohol consortium's how-to resource on clearinghouse set-up
The CleanFleet company, which among other services offers a drug and alcohol testing consortium for carriers, has put together a how-to resource carriers, including independent owner-operators, can use as a reference when setting up their operations to comply with the rules around use of the new drug and alcohol test-results database.
Compliance with the database rules, as our own guide to complying with the new rules around the testing made clear, needs to occur by January 6.
Cleanfleet's step-by-step guide is available via this link. Follow this link for our own coverage of the needs specific to owner-operators:
SensiGuard: Cargo theft volumes up year-over-year, values down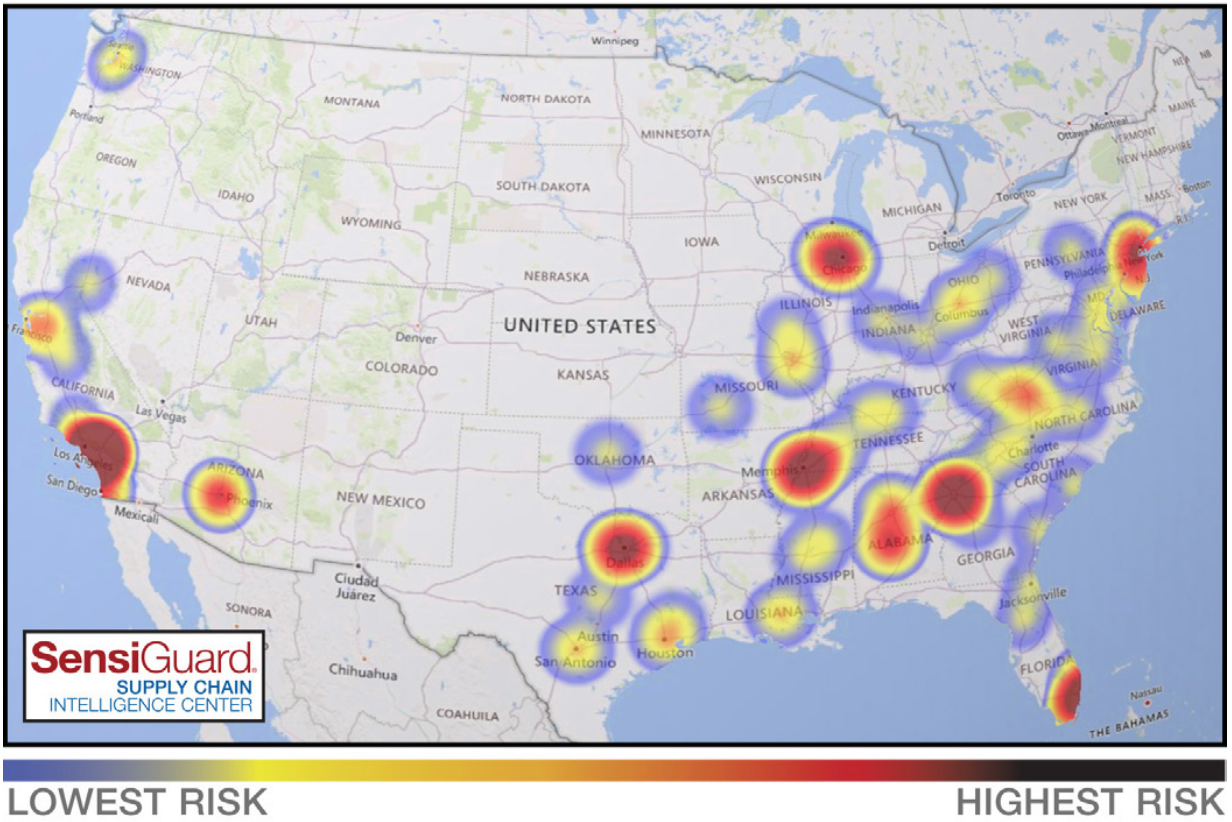 Recorded cargo thefts during the third quarter of 2019 increased in volume but decreased in value when compared to the same period a year ago, according to cargo theft recording firm SensiGuard's quarterly report.
The firm recorded a total of 165 cargo thefts in the third quarter with an average loss value of $155,709. These numbers represent a 3% increase in volume and an 8% decrease in value. SensiGuard notes that its numbers do not represent 100% of cargo theft incidents during a certain time period, but it is a sizeable enough number to establish trends in theft activity.
Electronics were the most stolen product type during the third quarter, making up 21% of recorded thefts. California had the most reported cargo thefts with 26% of the U.S. total in the quarter, followed by Texas (10%), Georgia (9%), and Florida (8%).
Full truckloads were the most targeted shipment types, the firm notes, with 56% of all reported thefts in the quarter.
Nussbaum deploys 'smart trailer' telematics system from Phillips
Phillips Connect Technologies (PCT) partnered with Illinois-based Nussbaum Transportation to supply what the company calls a "smart trailer" system that delivers GPS tracking, cargo detection, automatic tire inflation system alerts, tire pressure and temperature monitoring. Also part of the system: an anti-lock braking system decoder that delivers detailed fault codes, trailer VIN information and mileage reporting to back-office monitors.
PCT will also deliver on tractor-trailer pairing verification to help managers ensuring the right tractors connect to the correct trailers before hauling a load. Additional sensor features under consideration for integration are PCT Lite-Sentry light-out detection and reporting system a Remote PreCheck system — the latter allows operators in the field to pre-check lights and tires on a parked trailer from any device connected to the internet.
Nussbaum, PCT says, is integrating the Pressure Systems International TireView system for tire pressure and temperature monitoring and tire inflation. This can deliver real-time tire health to a fleet's operations managers while maintaining pressures to allow a driver to complete a run if a minor problem develops.