Trucking news and briefs for Thursday, Nov. 21, 2019: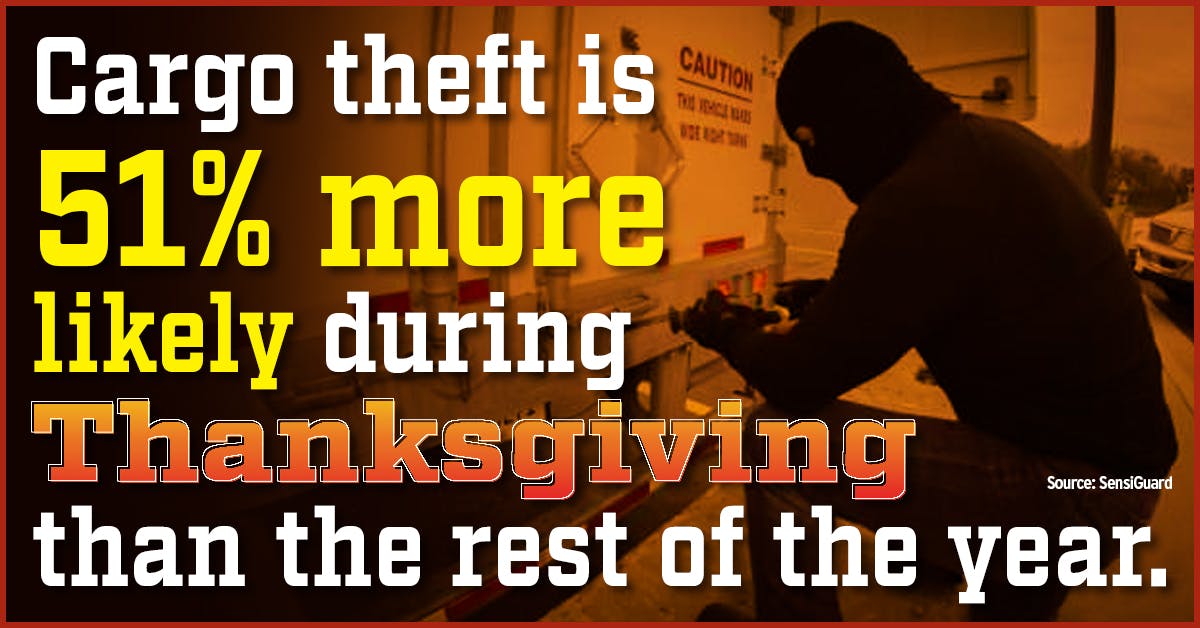 Cargo theft firm warns of increased theft activity around Thanksgiving
Cargo theft recording firm SensiGuard is warning truck drivers, fleets and shippers of increased theft activity during the Thanksgiving holiday period due to loads being left unattended for longer periods of time. The firm says in the last five Thanksgiving holiday periods, it has recorded just under three thefts per day, which is 51% higher than throughout the year.
SensiGuard recommends drivers and carriers confirming receivers' hours of operation during the holiday period to cut down on time the load will be left sitting unsecured and to better plan for secured parking locations.
The firm notes that truck stops, rest areas and distribution centers are frequent targets for thieves, so drivers should consider finding lots with controlled access, adequate lighting, video surveillance and more. If loads will be left unattended, the firm suggests the use of theft-resistant locks and seals for tractors and trailers and disabling technology for tractors, as well as parking in a way to make access to the cargo as difficult as possible.
Heavy/oversize and other specialized hauling conference schedule set, upcoming in February
The Specialized Carriers & Rigging Association (SC&RA) has announced its lineup of speakers, meetings and educational sessions for the its upcoming 2020 symposium, set for Feb. 18-21 at the Sheraton Charlotte Hotel in Charlotte, N.C.
The gathering will feature plenty networking opportunities for all levels of specialized transport pros to network with top operations managers, safety directors, safety managers, pilot car professionals, permitting officials, law enforcement and state and federal permitting and bridge engineer officials from numerous agencies. Discussions and educational sessions center on permitting harmonization, safety, regulations, compliance and some of the most pressing topics in specialized transportation, with a general theme through of technology and where it's taking industry into the next decade.
"We've requested our speakers to focus on what our membership should expect to see from technology, and just as importantly, solutions for employing new technologies by 2030," said SCRA Transport VP Steven Todd. He looks ahead in his own session, titled "Five Ways SC&RA is Positioning Heavy Haul for the Next Decade."
Those interested can take a look at the full schedule, include live load securement tutorials, via this link.