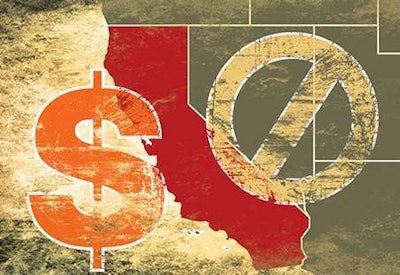 Trucking news and briefs for Tuesday, May 19, 2020:
Trucking groups, carriers join lawsuit against California's A.B. 5
A group of trucking organizations and carriers have filed briefs in support of the California Trucking Association's lawsuit against California's A.B. 5 law that challenged the owner-operator model in California.
There were six separate amicus briefs filed to the court last week in support of CTA's lawsuit. An amicus brief is a legal document filed in appellate court cases filed by parties that are not part of the case with strong interest in the subject matter. Those who filed briefs were:
Owner-Operator Independent Drivers Association
American Trucking Associations
Western States Trucking Association
American Dream Coalition
Cal Cartage Transportation Express and K&R Transportation California
American Chemistry Council, Consumer Brands Association, Institute of Scrap Recycling Industries, National Industrial Transportation League, National Shippers Strategic Transportation Council, and the Fertilizer Institute
CTA sued the state in November over the law, which enacted the so-called ABC test for determining whether a worker is an employee or a contractor. Most difficult for trucking, the B-prong of the ABC test prevents employers from contracting with workers that perform the same work as the business itself, which effectively limited carriers from leasing owner-operators to haul freight under traditional owner-operator agreements. Joining them in the lawsuit were two independent owner-operators, Ravinder Singh and Thomas Odom.
Judge Roger Benitez, of U.S. District Court in Southern California, issued a last-minute restraining order Dec. 31 to temporarily block enforcement of A.B. 5 on trucking before it took effect on Jan. 1. He then heard arguments on Jan. 13, from both sides of the case as to whether he should issue a longer injunction against the law until the lawsuit can be heard and adjudicated. A few days later, he sided with CTA, Singh and Odom, granting their request to put a stay of enforcement on the law pending the ongoing lawsuit.
Be wary of 'extremely active' cargo thieves around Memorial Day
Cargo theft recording firm SensiGuard is warning truck drivers of "extremely active" cargo theft rings in the coming days due to shipments typically being left unattended for longer periods of time over the long Memorial Day weekend.
The firm says it has recorded theft rates up to 71% higher and average values up to 292% higher during Memorial Day weekends than on non-holiday weekends. Since 2014, Memorial Day weekends have seen an average theft value of $324,403 totaling more than $12 million.
SensiGuard recommends trucking companies make sure security protocols are up-to-date, while also confirming receivers' hours for the holiday weekend to mitigate the time a truck is parked unattended. Covert GPS tracking and active monitoring of high-value shipments is also recommended, the firm says.
The firm also notes that truck stops, rest areas and distribution centers are frequent targets for cargo thieves and recommends drivers looking for parking areas with controlled access, adequate lighting, surveillance and more.
Notable Memorial Day weekend cargo thefts in recent years include:
Pilferage of medical supplies worth $624,000 in California in 2019
Theft of full truckload of electronics worth $1 million in Kentucky in 2018
Theft of full truckload of apparel worth $5.7 million in Kentucky in 2018
SelecTrucks expands Daimler walk-away lease program to include owner-ops
Used truck retailer SelecTrucks announced new enhancements to its SelectLease fair market value leasing program offered by Daimler Truck Financial that make owner-operators eligible for the program.
The updated program now offers eligibility for a single vehicle, allowing owner-operators to participate. It also now includes a Select Limited warranty for the life of the lease, lower down payment options and lower monthly payments.
The 24-month lease term comes standard with 24-month, 200,000 mile Select Limited Base, Extra and After-Treatment System warranty coverages. The 36-month term comes standard with 36-month, 300,000 mile Select Limited Base, and 24-month, 200,000 mile Select Extra and After-treatment System coverages.
Oregon Trucking Associations feeding drivers Wednesday
The Oregon Trucking Associations will provide free meals for truck drivers for the fourth time Wednesday, May 20.
The group will be at the southbound Juniper Butte weigh station along U.S. Highway 97. Beginning at 10:30 a.m., truckers can pick up a free boxed lunch, bottled water, hand sanitizer and disposable safety masks.
With previous events in Woodburn, Cascade Locks and Ashland, OTA staff has provided meals to nearly 1,000 truckers in April and May.