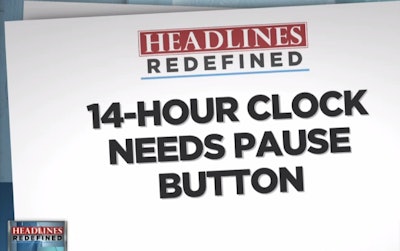 Trucking news and briefs for Thursday, Sept. 3, 2020:
Comment period opens for proposed hours flexibility pilot program
The Federal Motor Carrier Safety Administration is now accepting comments on a proposed pilot program that would give more hours of service flexibility to drivers by allowing them to pause their 14-hour clock. The agency announced the proposal Friday, Aug. 28.
This new public comment period by FMCSA looks for feedback on off-duty breaks of as few as thirty minutes — and not more than three hours — to be allowed to pause the 14-hour on-duty window as long as the driver takes 10 hours off-duty at the end of the work shift. Comments can be made here through Nov. 2.
The agency said in the notice that it proposed to include this pause in the HOS changes set to take effect Sept. 29, adding that "a single pause of up to 3 hours would provide significantly more flexibility than is allowed under the current rules. The pause would have allowed drivers to take an off-duty break without fear of exhausting their available hours under the 14-hour clock, which would also have allowed them to get additional rest or avoid traffic congestion."
FMCSA ultimately left the pause out of the rule due to concerns from commenters who believed drivers would be coerced to use the break to cover detention time and not allow drivers to get proper rest.
The proposed pilot program, FMCSA said, is designed to discover the extent to which "detention pauses" occur and their effects on drivers, compared to pauses taken under other circumstances.
Participation in the proposed pilot program, which would operate for three years or less, would be limited to a certain number of CDL drivers who meet the criteria specified for participating.
Information FMCSA is requesting from the public during the comment period includes, but is not limited to:
Are the data collection efforts proposed for carriers and drivers so burdensome as to discourage participation?
Should team drivers be allowed to participate?
What additional factors, such as gender, geographic location, age, operating types or driver experience, should be considered when selecting participants?
Is the estimated sample size of 200-400 drivers sufficient to gain statistically significant findings over a period of up to three years?
New study showed automatic emergency braking (AEB) systems could result in fewer crashes
The Insurance Institute for Highway Safety reported results from an analysis in collaboration with the SmartDrive video-monitoring solutions company that showed substantially fewer rear-end crashes by vehicles equipped with automatic emergency braking technology (41% fewer) and forward-collision warning systems (44%). Those vehicles' crash rates per vehicle miles traveled were compared with a control group that did not have the technology installed.
Overall, 22% fewer crashes were experienced by trucks equipped forward-collision warning and 12% fewer with AEB, compared to those without either technology.
The analysis included trucks operated by 62 different carriers and "covered some 2,000 crashes that occurred over more than 2 billion vehicle miles traveled during 2017-19," IIHS said. "The analysis excluded incidents that weren't serious enough to result in injury or significant property damage."
Love's kicks off Children's Miracle Network fundraising campaign
Love's Travel Stops this week kicked off its latest fundraising campaign for Children's Miracle Network Hospitals throughout the country. The campaign runs through Oct. 3.
Since July 14, Love's has raised more than $845,000 asking customers to Round Up the Change to support CMN Hospitals. Love's customers can continue rounding up their change to the nearest dollar, and starting this week can also donate any amount at the register.
With the campaign officially beginning, stores are now holding raffles and selling CMN Hospitals merchandise, including face coverings, to benefit hospitals.
Love's will show support for CMN Hospitals on Sept. 29 for National Coffee Day, in which customers can purchase any sized coffee for $1 with all proceeds going to the hospitals. Purchases must be made through the Love's Connect mobile app for the deal. Additionally, customers can reply to Love's social media posts on National Coffee Day with a photo of their Love's coffee, and the company will donate an additional dollar to CMN Hospitals.
Mack Heroes Truck delivers hurricane relief supplies to Gulf Coast
In the wake of the devastation Hurricane Laura's caused on the Gulf Coast recently, American Trucking Associations is dispatching its Mack Heroes Truck to deliver relief supplies to the citizens of Lake Charles, Louisiana. The powerful storm left 19 dead in Louisiana and Texas, and damage estimates range from $8-to-$12 billion.
The Heroes Truck made the first of several planned deliveries on Monday, Aug. 31 and will continue to make deliveries over the coming days in coordination with the Louisiana Motor Truck Association, supported by donations from the trucking industry, including a $10,000 contribution from ATA Chairman Randy Guillot, president of Triple G Express and Southeastern Motor Freight.
ATA's Heroes Truck honors America's veterans with the support of Utility Trailer Manufacturing Co. and Mack Trucks.
Driver named Highway Angel for helping crashed motorcyclist
Vermont-based truck driver Jeremiah Johnson has been named a Highway Angel by the Truckload Carriers Association for helping a motorcyclist who lost control and skidded across the pavement to avoid hitting a deer.
Johnson was driving along I-70 through Missouri on June 15 headed for the West Coast when he topped a hill and saw a motorcycle "come to a screeching halt and slide across the pavement as a deer ran off into the grass on the right shoulder," he said. Johnson pulled up behind where the motorcyclist was lying to divert traffic, turned on his four-ways and jumped out to help.
Another driver also stopped and ran up with Johnson to check on the motorcyclist, who had been wearing a helmet.
"He was trying to stand up, but I told him it was best not to get up," Johnson said. "He was able to tell us his name, and the date, and where he worked, but he may have sustained a concussion."
Johnson ran back to his truck and grabbed his emergency first-aid kit, then tried to comfort the man and keep him still while waiting on emergency personnel. A nurse or paramedic driving by also stopped to help, and they held his head steady to stabilize his neck while she cut away his clothes to check for injuries.
An ambulance arrived about 30 minutes later, and Johnson said the man "was really confused about what had happened and where he was" by that time. He helped load him onto a stretcher and waited for the ambulance to leave.
For his willingness to help, TCA presented Johnson with a certificate, patch, lapel pin and truck decals. His employer, Melton Truck Lines, also received a certificate acknowledging their driver as a Highway Angel. EpicVue sponsors the TCA Highway Angel program.