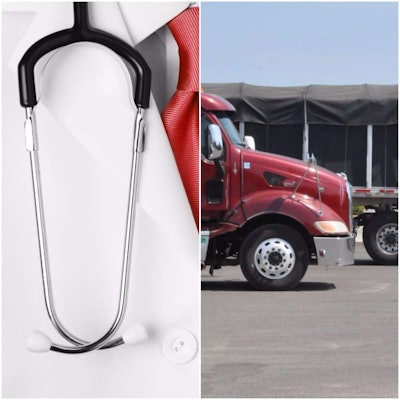 Trucking news and briefs for Tuesday, Sept. 22, 2020:
FMCSA extends COVID waivers for CDLs, med certs through December
The Federal Motor Carrier Safety Administration on Sept. 18 extended its waiver that allows truck drivers to operate with an expired commercial driver's license, commercial learner's permit or medical certification that expired on or after March 1, 2020. The extension is effective through Dec. 31.
The agency previously extended the waiver through Sept. 30.
States, CDL holders, CLP holders and interstate non-CDL commercial drivers are covered under the waiver with no further action, FMCSA says.
The agency notes that it has also issued a Notice of Enforcement Policy stating that, through Dec. 31, it will not take enforcement against drivers for operating a commercial vehicle if the driver had a valid CDL or CLP on Feb. 29, or against motor carriers for using such a driver.
Since the COVID-19 pandemic began, FMCSA says truck drivers have had difficulty scheduling DOT physicals and driver's license renewals due staffing shortages and other issues.
Trucker named Highway Angel for waking fellow driver whose truck caught fire
Bobby Bourne, a truck driver for Big G Express, has been named a Highway Angel by the Truckload Carriers Association for waking another trucker whose truck caught fire.
The Tazewell, Virginia-based Bourne was stopped at the North 40 Truck Stop off I-40 near Holladay, Tennessee, to take his 30-minute break and was cleaning his windshield when he heard a loud screaming noise. "It sounded like a belt on an engine slipping and squealing," he said.
He looked around and saw that a reefer had burst into flames. Bourne jumped down from his truck and ran over, afraid that someone was sleeping inside the truck. As he beat on the cab, the driver looked out the window. The driver grabbed his pants and jumped out of the truck, leaving his phone and shoes behind. Shortly after, a tire on the back axle blew.
"It literally knocked me down on the ground," Bourne said. "I said, 'Oh Lord, have mercy.' We all ran away from the truck as the flames began engulfing the back of the sleeper."
The man told Bourne he was an owner-operator who lived near Harrisburg, Virginia. Bourne took photos with his phone and sent them to the man's wife for insurance.
"I would do it again. He's probably someone's dad…someone's granddad," Bourne said. "I hope someone would do the same for me. My biggest fear is being asleep in a truck and it catching on fire and no one waking me up in time. At the end of the day, trucking is a family and we're all out here trying to do a job. We've only got each other. I believe the good Lord put me in the right place at the right time."
For his willingness to help, TCA presented Bourne with a certificate, patch, lapel pin and truck decals. Big G Express also received a certificate acknowledging their driver as a Highway Angel. EpicVue sponsors the TCA Highway Angel program.