After rallying from May through September, spot truckload rates appear to have plateaued as demand for trucks cooled during the week ending Oct. 18, said DAT Freight & Analytics, operator of the DAT load board network.
Load-to-truck ratios, a measure of load posts against truck posts on DAT load boards, slipped for the second straight week. Yet spot rates remain high relative to last year due to imbalanced networks and tight capacity in specific lanes and markets. Load-to-truck ratios continue to sit at double what they were at this time last year.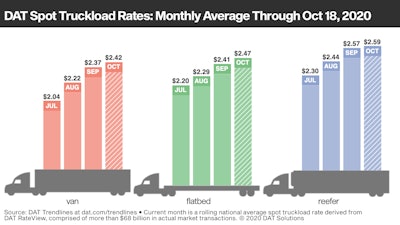 Truck posts overall slipped in volume last week by 2% over the prior week, while load posts declined 3%. The van ratio was 4.2, unchanged from the previous week, and the reefer ratio slipped from 8.7 to 8.3. The flatbed ratio was 37.2, down from 38.9.
Flat van rates last week pulled the monthly average so far for October down a penny to $2.42 a mile, including fuel. The average spot rate was higher on just 22 of DAT's top 100 van lanes by volume compared to the previous week. Twenty-three lanes were neutral and 55 saw rates decline. The number of available loads on these lanes dipped 1.4% week over week.
The national average reefer rate has been in a tight 4-cent band for the last four weeks. Among DAT's top 72 reefer lanes by volume, 23 were up last week, 19 down, and 30 unchanged, with the number of loads moved on those lanes up almost 1% compared to the previous week. Rates were better for flatbed freight. Of DAT's 78 highest-volume flatbed lanes, 30 were up, 17 down, and 31 unchanged on a 0.7% gain in volumes.
Hot commodities?
Van: FAK (freight all kinds), which includes e-commerce and retail, was up 33 cents/mile over the national average.
Reefer: Food ran 22 cents/mile higher than the national reefer average, and beverages were up 13 cents/mile.
Flatbed: Building materials are 4 cents/mile over the national flatbed average. Housing activity remains especially strong in the Southeast.
Ahead of Thanksgiving, reefer volumes are rising out of poultry markets. Roughly 63% of turkey production comes from just five states: North Carolina, Minnesota, Indiana, Missouri and Arkansas.
And e-commerce activity is pulling capacity to it. The U.S. Bureau of Labor Statistics reports employment at local trucking companies increased 7.4% between its low point in April and July, the last month for which data are available. Long-distance trucking employment hit its low in May and rose just 1.3% from then through July. Compared with July 2019, unadjusted long-distance trucking employment was down 6.4%. Drivers not returning to longer-haul operations may in part explain record levels of spot market activity as asset-based carriers are unable to meet higher-volume contracted commitments on existing lanes.