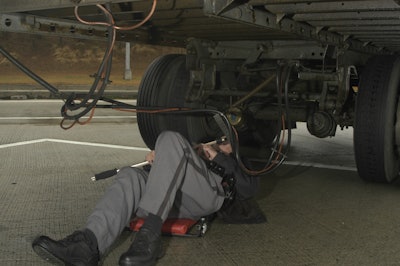 Trucking news and briefs for Tuesday, Oct. 27, 2020:
5,000-plus parked for out-of-service brake violations during Brake Safety Week
Commercial Vehicle Safety Alliance-certified roadside inspectors in jurisdictions across the U.S., Canada and Mexico temporarily removed 5,156 trucks from highways with out-of-service violations, accounting for 12% of the 43,565 trucks inspected during the week-long Brake Safety Week blitz. The even was held Aug. 23-29.
"Although many commercial motor vehicle enforcement agencies were forced to reduce services in the spring due to the pandemic, it was important that we resumed inspection and enforcement duties as soon as it was safe to do so," said CVSA President Sgt. John Samis with the Delaware State Police. "With truck drivers designated 'essential personnel' by the government, we needed to ensure that the vehicles traversing our roadways were safe to support commercial drivers as they selflessly continued to work during such a difficult and challenging time."
During the inspection spree, inspectors keyed in on the chafing of brake hoses. CVSA says chafed hoses were separated into five levels based on severity, with two levels being out-of-service conditions.
A total of 6,697 hose chafing violations were reported by inspectors, with 1,012 of those leading to out-of-service orders.
Freightliner partners with Google's Waymo for autonomous Cascadia
Daimler Trucks and Google parent Alphabet's autonomous driving division Waymo announced Monday a global strategic partnership with a goal of deploying autonomous SAE Level 4 technology.
Considered "high automation," Level 4 is the first autonomous driving level at which the vehicle itself can intervene in the event of a system failure and does not require human intervention in most circumstances. Humans still have the option to override functions manually.
The Waymo partnership marks Daimler Trucks' second foray into the driverless driving space, having early last year acquired a majority stake in self-driving truck software developer Torc Robotics. Daimler Trucks North America President and CEO Roger Nielsen said the company's continued push for further automated driving is more than a technology demonstration, adding "we are pushing engineering solutions that strive above all to increase safety and help our customers improve business efficiencies."
Under the terms of the partnership, Waymo will integrate its driving technology with Freightliner's Cascadia to enable autonomous driving. Freightliner – who with the 2020 Cascadia became the first trucking OEM with a Level 2 autonomous driving-enabled truck – expects its autonomous Cascadia, equipped with the Waymo Driver platform, to be available to customers in the U.S. "in the coming years." The companies plan to investigate expansion into other markets and brands "in the near future."
The truck project initially will focus on highway driving, but Waymo CEO John Krafcik said there are plans "to unlock a full suite of driving capabilities." Initial testing will take place in the Southwest in Arizona, Texas and California – the same footprint of Waymo's passenger car project – "but we're going to be across the country … with the Waymo Driver," Krafcik added.
2020 Capitol Christmas Tree to make 10 stops en route to D.C.
The 2020 U.S. Capitol Christmas Tree Tour schedule is now set. The 55-foot talk Engelmann Spruce will be harvested Nov. 6 on Colorado's Uncompahgre National Forest and will begin its 2,000-mile cross-country trip on Nov. 10.
The tree will make 10 stops on its tour before it's delivered to the U.S. Capitol on Nov. 20. A tree-lighting ceremony will be held on the West Lawn in early December.
A Kenworth T680 will transport the tree from Colorado to Washington, D.C. The truck is equipped with a 76-inch sleeper and the Paccar Powertrain featuring the 455-hp Paccar MX-13 engine, Paccar 12-speed automated transmission and Paccar 40K tandem rear axles. It's also equipped with Kenworth's "Driver's Studio" with 180-degree passenger swivel seat and 90-degree rotating table, Kenworth Diamond VIT interior, premium Kenworth GT703 seats and more.
The T680 will be driven by Theron Schmalzried and William "Butch" Hanna of Apex Transportation, a Colorado-based flatbed trucking and specialty transportation fleet. Schmalzried and Hanna have 42 years and 41 years, respectively, of truck driving experience. Schmalzried has spent 23 years with Apex Transportation, while Hanna has driven for the company for 17 years.
The 2020 U.S. Capitol Christmas Tree Tour schedule is as follows:
Nov. 10: San Miguel County Fairgrounds (Norwood, Colorado) and Montrose Visitor Center (Montrose, Colorado)
Nov. 11: Ouray County Courthouse (Ouray, Colorado) and Grand Junction Convention Center (Grand Junction, Colorado)
Nov. 12: Downtown Paonia (Paonia, Colorado) and Gunnison Community School (Gunnison, Colorado)
Nov. 13: Salida High School (Salida, Colorado)
Nov. 14: Bass Pro Shops (Denver, Colorado)
Nov. 15: Kit Carson County Fairgrounds (Burlington, Colorado)
Nov. 17: Asheville Outlets (Asheville, North Carolina)
Nov. 20: Delivery to West Lawn, U.S. Capitol Building (Washington, D.C.)
St. Christopher fund online auction launching Nov. 1
The well-known St. Christopher Truckers Relief Fund (SCF), providing financial assistance to ill and injured truck drivers, will host an online auction starting Sunday, Nov. 1. The auction replaces its annual event that garnered so much support beind hosted in the truck parking lot of the Great American Trucking Show (GATS) in Dallas, Texas, canceled early this year in light of the COVID-19 pandemic and which would have been held in late August.
As has happened the last couple of years — documented in 2018–19 reports by Overdrive Extra contributor Paul Marhoefer — the Heartland Express fleet will once again match all donations from the event up to $15,000. The company began supporting St. Christopher after one of their own drivers, Bruce Richard, received support from the foundation when his wife, Debbie, was injured in an accident. Bruce has since become a brand ambassador and passionate supporter of SCF. "We are so grateful for Bruce and Debbie and for the support of Heartland Express and everyone who donates to our virtual auction," said Shannon Currier, SCF Director of Philanthropy and Development.
The auction will proceed with three sessions, each a week long.
Session 1: Sunday, November 1, 10:00 am ET to Saturday, Nov. 7, 7:00 pm ET. Each session will have a new set of items to bid on for the week, and Sessions 2 and 3 will follow a similar schedule when it comes to time. The auction will officially close Saturday, Nov. 21. A full list of auction items for each is available via the St. Christopher Truckers Relief Fund Facebook page.
On-highway products maker RoadPro donated more than a dozen items. Other donors include: the Radio Nemo Show, Raney's chrome shop and aftermarket accessories, and others.
CDL holders now get 10% discount on Hot Shot's Secret products
Additives and lubricants manufacturer Hot Shot's Secret is now offering a 10% discount on its products from its online store for qualified CDL holders.
U.S.-based CDL drivers will qualify for the discount that will automatically be applied at checkout in the company's online store.
To activate the discount, drivers can click Commercial Driver Discount during checkout, and a window will prompt them to create an account, which requires drivers to upload a CDL. Once verified, the license will be deleted from the company's files for security reasons, and the discount code will be added to the order.