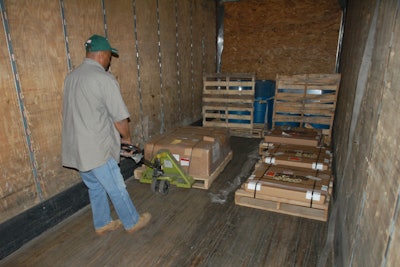 Just as warnings have been issued for a difficult winter due to the ongoing COVID-19 pandemic, a trucking analyst warned this week that the pandemic will lead to retail shortages at least through the holiday season, complicating an already imbalanced supply chain.
"It's probably going to get worse before it gets better," said Paul Kroes, Thermo King's markets insight leader for North America.
Those better days might well come soon in 2021. During a webinar Tuesday, Kroes forecast that upward pressure on rates will benefit carriers, attract people into the driver pool and lead to increased equipment sales.
The industry likes to see truck utilization at 90% or higher, but that hasn't been the case for much of 2020. Fleets have enough equipment, but "there's not nearly enough drivers to do the work" because of various factors, he said. "The driver shortage is now the determining factor and will be for the foreseeable future till all that gets resolved."
Some 40,000 drivers have been lost due to implementation of the federal Drug & Alcohol Clearinghouse, and others due to large fleets' adoption of hair follicle drug testing and others choosing, instead of driving, to accept unemployment benefits enhanced during the pandemic.
Also, the pandemic has caused many CDL schools to close temporarily or permanently, reducing new entrants into the driver pool, Kroes said. And with a strong spot market in recent months, many leased owner-operators have obtained operating authority, hurting some fleets' ability to flex up as demand rises.
The pandemic has accelerated a "large shift from services to retail demand," he said. With restaurants, travel and entertainment restricted so much, employed consumers have upped their retail buying.
Whatever happens with the pandemic, the hot spot market eventually helps larger fleets, Kroes said. As freight contracts come up for renewal, the large carriers have leverage to lock in higher prices for a year or more. At the higher rates, carriers can better afford to buy new equipment and to offer better pay to recruit and retain drivers.
"That's why we have a very favorable outlook for the next few years," Kroes said.
But for the near-term, Kroes presented a darker path. He echoed national health experts who've warned that close, indoor family holiday gatherings will cause spikes in the pandemic, leading to new lockdowns. As so many sectors of the economy continue adapting to new procedures and demands, the long-term damage to the economy could turn out to be worse than realized, he said. Recent news of progress with effective vaccines might not come to fruition as quickly as many hope.
Still, he didn't rule out a more upbeat perspective for the next few months. It would depend on the opposite of those scenarios – minimal expansion of the pandemic, steady progress with a vaccine and a renewed economic rebound.