Trucking news and briefs for Thursday, Feb. 11, 2021:
I-35 in Fort Worth remains closed after fatal 100-vehicle pileup
Crews continue work Thursday afternoon to clear a fatal crash that occurred Thursday morning involving dozens of vehicles along I-35W north of Fort Worth, Texas.
The pileup, which occurred around 6:20 a.m. Thursday, was a result of slick and icy roads caused by overnight rain. According to a report by the Fort Worth Star-Telegram, around 100 cars and tractor-trailers were involved in the one-mile stretch of wreckage.
Fort Worth police have confirmed five fatalities as of Thursday afternoon, the report adds, with dozens of others injured and transported to local hospitals.
Both directions of the interstate remain closed Thursday afternoon as crews continue to clear the wreckage. Drivers can check DriveTexas for the latest road closure information.
New out of service criteria go into effect April 1
This year, updates to the Commercial Vehicle Safety Alliance's annually published North American Standard Out of Service Criteria handbook and smartphone application are few and far between. A mere four changes were made, all accessible via this link to a pdf of the CVSA's annual public notice describing the changes for past purchasers of the handbook and others. One has to do with U.S. drivers' hours regs and the past permissibility of previous-generation e-logs, otherwise known as AOBRDs (Automatic Onboard Recording Devices).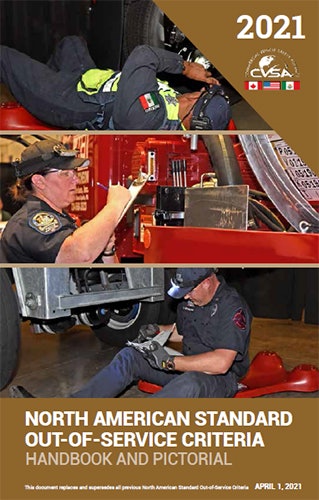 A small change to a footnote was made to "make it clear that [an AOBRD] cannot be used in place of a compliant electronic logging device (ELD), when an ELD is required," the notice stated. Some carriers, however, if running exempt from the U.S. ELD mandate, are still allowed use of AOBRD technology to satisfy the record-keeping requirements of the hours of service, "so the footnote could not be completely removed."
Small changes in the same set of footnotes, found in Part 1, Item 9 of the handbook, were also made to excise or otherwise revise repetitions of regulations contain therein, aimed at preventing potential roadside inspector confusion.
Two of the changes have to do with the Canadian hours regs – these were technical changes made anticipating the June 12 enforcement deadline for the electronic logging device mandate there.
The final substantive change had to do with high-center-mount brake lamps on smaller commercial vehicles. "The amendment was to clarify that an inoperative lamp" of such type "that is required equipment through regulation is considered a critical vehicle inspection item but not considered for out of service purposes," said the notice. "The vehicle would still require at least one brake light in addition to the high center-mounted stop lamp to avoid being placed OOS."
The new criteria go into effect on April Fool's Day.
Trucker Path adds instant booking features with Parade partnership
Trucker Path announced Thursday carriers can now lock in capacity instantly without emailing or calling a broker through its TruckLoads online load board, due a new partnership with capacity management platform Parade.
"This eliminates the time consuming back-and-forth negotiation that is common in the spot market. We're also giving carriers the option to verify their operating authority and insurance to foster trust and strengthen transparency in their relationships with brokers," said Steven Lopez, vice president of business development for Trucker Path.
The Parade integration with TruckLoads gives carriers access to loads with book-instant or bid-on prices, allowing them to digitally and instantly secure freight without the need to call in for rates. Those requests by verified carriers on the Trucker Path mobile app or TruckLoads Web Carriers freight search load board flow through the Parade platform to their broker customers in a seamless, fully-automated process.
Smarthop's latest cash infusion from investors
Independent dispatch platform and business services provider SmartHop announced a $12 million financing round, led by Union Square Ventures (USV) with participation from RyderVentures — a new corporate venture fund by Ryder System, Inc. — Equal Ventures, and Greycroft.
The investment comes less than a year after SmartHop's $4.5 million seed round, bringing the company's total funding since its 2018 launch to $16.5 million. The company says will use financing from its Series A to continue investing in its full-service dispatching platform, to grow its team and to seek strategic partnerships that enable small trucking companies to "make smarter decisions that boost revenues and give them more control of their business."
"The past year was an especially challenging one for small and independent truckers, essential parts of the country's economy who already were facing significant challenges in competing against large carriers. ... We created SmartHop to help these businesses thrive, and the need for our platform is stronger than ever today," said Guillermo Garcia, co-founder and CEO of SmartHop.
SmartHop's platform today is connecting users with anything from basic dispatch and load booking to back-office support, fuel and insurance discounts, equipment-leasing services in partnership with Ryder; and more.