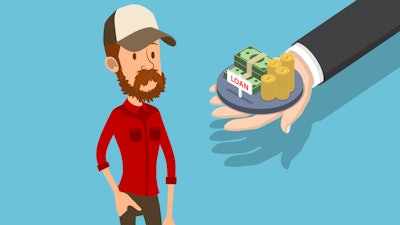 Yellowstone Capital, a leading provider of a type of small-business funding that has caused problems for small motor carriers, will pay more than $9.8 million to settle Federal Trade Commission fraud charges, announced the FTC. Much of that sum could be issued in refunds to affected businesses.
The agency said Yellowstone "took money from businesses' bank accounts without permission and deceived them about the amount of financing business owners would receive and other features of its financing products."
Yellowstone, now operated as Fundry Inc., was a pioneer in the controversial financing niche of merchant cash advances. An MCA provider gives a client, usually a small business with a poor credit rating, a cash advance in exchange for a much larger amount repaid through daily automatic payments.
Certain MCA providers have been widely criticized for misrepresenting their products, assessing exorbitant fees and ensnaring clients in a cycle of rapidly increasing debt. It's believed that thousands of fleets, brokers and other trucking-related entities have used MCAs in recent years.
The settlement requires Yellowstone, Fundry Inc., Yitzhak (Isaac) Stern, and Jeffrey Reece to surrender $9,837,000 to the FTC for refunds to affected businesses. Information on how the agency handles refunds is available online.
The U.S. Supreme Court said Thursday that a 1973 law giving the FTC the right to stop fraudulent commercial activity doesn't also grant the authority to seek financial judgments. However, the FTC filed its Yellowstone settlement one day before that ruling, so its redress provisions remain in effect, said FTC spokesman Jay Mayfield. FTC has issued such judgments for years, refunding billions of dollars.
In a case focused on trucking, in 2018 the FTC settled with James Lamb, an associate and businesses related to them, including DOTauthority.com. The defendants agreed to pay $900,000 for cheating owner-operators out of millions of dollars. Lamb, head of the Small Business in Transportation Coalition, denied that his activities were fraudulent, saying he settled to avoid further legal costs.
Nearly 15,000 small trucking companies that paid DOTAuthority.com or related defendants for commercial vehicle registrations received checks totaling $758,000 from the FTC.
[Related: Struggling small fleets stung by aggressive cash advance lenders]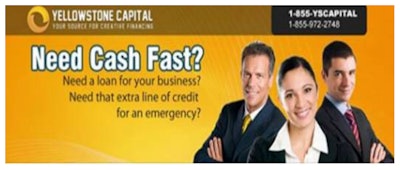 In Yellowstone's case, the FTC alleged that the company and its owners "continued withdrawing money from businesses' bank accounts for days after their balance had been repaid. The complaint alleged that these unauthorized withdrawals left businesses without needed cash and that any refunds from the company could take weeks or months."
The complaint also alleged that Yellowstone misled some businesses about the amount of funding they would receive and defendants' requirements that consumers pledge collateral and make personal guarantees.
The agency filed its proposed order, signed by the Commission and the defendants, April 21 in the U.S. District Court for the Southern District of New York.
The Yellowstone settlement also prohibits the defendants from misleading consumers about financing terms, including whether the clients will be personally liable for the financing. The defendants will also be prohibited from making unauthorized withdrawals from consumers' bank accounts. Defenders are required "to clearly and conspicuously disclose any fees that will be paid by consumers for the financing, as well as the actual amount of money that a consumer will receive after the fees are charged," said the FTC.
Thousands of entities with U.S. DOT numbers, most of them fleets, brokers and other trucking-related entities, have used MCAs in the last five years, based on analysis of companies that made uniform commercial code filings, which are part of virtually every MCA application. UCC filings are liens that a creditor uses to establish that it has an interest in a debtor's property that was pledged to secure financing. The state-based filings were analyzed by RigDig, a data subsidiary of Overdrive's publisher, Randall-Reilly.
Some small-fleet owners who took out MCAs were interviewed last year in Overdrive's Cash-Flow Crisis series, which explored financing challenges faced by small fleets and owner-operators during and before the pandemic.
[Related: How borrowers, sometimes unknowingly, sign away their assets in MCA contracts]
The FTC filed a similar complaint in June against a group of companies and their officers, all related to the former Richmond Capital Group. A similar lawsuit was filed by the state of New York against the same parties. The allegations against the Richmond companies are similar to those against Yellowstone.
The Overdrive series, citing a 2018 investigative series by Bloomberg Businessweek, noted that Yellowstone introduced the MCA model when it was formed in 2009 by David Glass and a friend. "Among the hustlers and con men who work the bottom rungs of Wall Street, Glass is a legend," wrote Bloomberg. "Before he was 30, he'd inspired the 2000 stock-scam movie 'Boiler Room' and was "later busted by the FBI for insider trading."
Yellowstone and another lender, Green Capital, were reorganized and rebranded as subsidiaries of Fundry.
Last year's FTC complaint against Yellowstone said the defendants market their products "through a vast, everchanging network of agents." Among them are Green Capital Funding LLC, West Coast Business Capital, LLC, World Global Capital LLC, High Speed Capital LLC, Thryve Capital Funding LLC, and Mason Capital LLC.