Trucking news and briefs for Friday, May 14, 2021:
Strong March for carriers leads to record high trucking conditions, FTR reports
FTR's Trucking Conditions Index (TCI) for March, as reported in FTR's May Trucking Update, surged to a record high of 16.27, up about five points from February. The prior record was 16.17, set in October 2020.
According to FTR, contributions from freight volume, rates and capacity utilization all strengthened in March.
"March's record TCI was especially remarkable considering that the index's fuel component – the month's lone weakness – was the most negative it had been since before the Great Recession," said Avery Vise, FTR's vice president of trucking. "Robust demand and tight capacity no doubt are big operational headaches for many trucking operations, but those factors are supporting the best market conditions ever for carriers. We have yet to see signs of a loosening in driver capacity, so the near-term outlook is strong."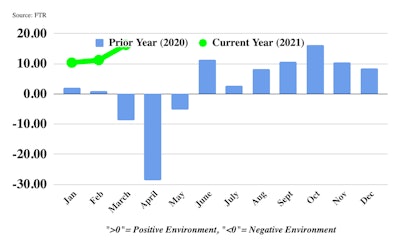 According to ACT's monthly Freight Forecast, ACT Research's Vice President and Senior Analyst Tim Denoyer said supply side constraints will keep the truckload market "very tight" in the near-term, as freight demand remains exceptionally strong, "so the peak in spot markets remains ahead of us," he added. "The semiconductor shortages impacting Class 8 tractor supply don't have quick fixes, and neither do the structural factors inhibiting driver supply, such as demographics and drug testing."
FTR expects the TCI to remain in positive double-digit territory at least through the third quarter, with the possibility of one or more record readings.
"A longer-term risk is that extraordinary levels of consumption – especially of durable goods – set the stage for softness in 2022 and beyond," Vise said. "In a sense, therefore, today's supply chain shortages might prove beneficial by stretching out the period of solid consumer demand."
"This is perhaps the strongest freight market ever for carriers and the most challenging ever for shippers," Denoyer added. "But in our view, the industry is no less cyclical, and in our three-year freight volume and rate forecast horizon, we explore the timing and magnitude of eventual " declines.
[Related: Spot market: After hitting bottom a year ago, rates near record highs, flatbed and reefer $3-plus/mile]
Brokers push for more safety data on carriers
The Transportation Intermediaries Association, which represents brokers, is making a legislative push to establish a safety standard for motor carrier selection.
Rep. Mike Gallagher (R-Wisconsin) and Rep. Seth Moulton (D-Massachusetts) introduced HR 3042 in Congress, which would require the Department of Transportation to enact a Safety Fitness Determination test for trucking companies, as well as require manufacturers and shippers to ensure trucking companies are licensed, registered and insured. The bill was referred to to the Subcommittee on Highways and Transit earlier this week. Text of the rule is not yet available.
The Federal Motor Carrier Safety Administration proposed a Safety Fitness Determination rulemaking in 2016, but it was withdrawn in 2017 for the agency to start over with a new rule.
FMCSA conducts audits of carriers to give them a safety rating (Satisfactory, Conditional, Unsatisfactory). With the current rating system, 85% of carriers are not rated, however, and that is "not fair" to freight brokers, said Anne Reinke, president of TIA.
TIA says a new safety standard would help prevent instances where freight brokers are roped into negligence selection lawsuits. "Typically, those who like to file lawsuits like confusion. We are trying to provide certainty," Reinke said.
[Related: Alert to DOT: Industry shows unity in opposition to safety rating change in light of CSA's problems]
Despite having limited public safety data on carriers, freight brokers and 3PLs use a variety of qualitative and quantitative metrics to guide their selection of carriers. During the TIA conference this week, a panel of 3PLs discussed how these metrics have been useful during a time when capacity is very tight.
The freight market has been very "rough, tumble, and extremely transactional" during the past year, said John Sutton, director of corporate support for Sunset Transportation, a 3PL based in St. Louis, Missouri. The company uses a carrier scorecard module in its transportation management system (TMS) from McLeod Software, to "make sure transactions are operating in guidelines."
Monitoring carrier service levels for on-time pickups and deliveries, as well as compliance with load tracking data requirements, are all "hot topics," said Eileen Dabrowski, director of learning, development and marketing for ReedTMS Logistics, a Tampa, Florida-based motor carrier and freight broker.
The pandemic has made it necessary for ReedTMS to find more transactional business, as contracted business has been more difficult to sustain with rates going up.
"We are making more outbound calls [to find carriers] than we ever have, especially in certain markets," Dabrowski said. "This market is really volatile and dynamic. Every time we think we get a handle on it, we don't." –Aaron Huff, CCJ senior editor