Trucking news & briefs for Tuesday, Aug. 17, 2021:
Diesel prices flat to falling last two weeks
Diesel prices across the United States have held mostly flat in recent weeks, falling 1.1 cents since hitting a 2.5-year high during the week ending Aug. 2, according to the Department of Energy's weekly report.
The U.S.' average price for a gallon of on-highway diesel now stands at $3.356, which is an eight-tenths of a cent decrease for the week ending Aug. 16. Prices had also fallen three-tenths of a cent during the week ending Aug. 9.
Last week the most significant increase was seen in California, where prices jumped 3.1 cents. The largest decrease was seen in the Lower Atlantic and Rocky Mountain regions, where prices fell by 1.8 cents.
The nation's most expensive diesel can be found in California at $4.319 per gallon, followed by the West Coast less California region at $3.682 per gallon.
The cheapest fuel can be found in the Gulf Coast region at $3.073 per gallon, followed by the Lower Atlantic region at $3.212 per gallon.
Prices in other regions, according to DOE, are:
New England – $3.271
Central Atlantic – $3.485
Midwest – $3.259
Rocky Mountain – $3.657
ProMiles' numbers during the same week saw fuel prices fall by nine-tenths of a cent, bringing its national average to $3.292 per gallon.
According to ProMiles' Fuel Surcharge Index, the most expensive diesel can be found in California at $4.261 per gallon, and the cheapest can be found in the Gulf Coast region at $3.06 per gallon.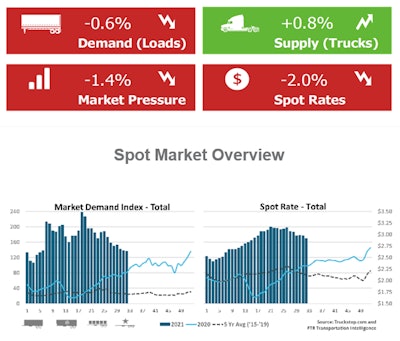 Free inspections on offer at Southern Tire Mart through Brake Safety Week
Southern Tire Mart, with 33 locations at various Pilot Flying J locations, is providing free "Safe & Road-Ready Checks" from now through August 28 in tandem with the Commercial Vehicle Safety Alliance's Brake Safety Week, which runs August 22-28. Professional drivers are invited to take advantage of this complimentary service at all 33 Southern Tire Mart centers.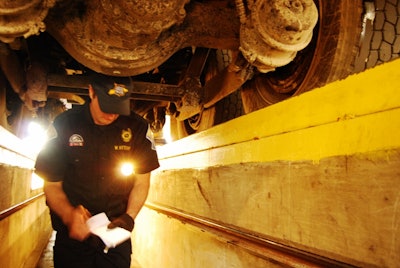 "By offering free Safe & Road-Ready Checks, our hope is that we help more professional drivers pass the checks successfully," said John Boynton, company president. The inspections are heavily focused on the tires and brakes, and include the assessment of windshields, exhaust, lights and more. The three most common failed items are tires, brakes and lights. Performing proper inspections on each of these will help reduce the chances of receiving a violation.
Staffed with ASE and TIA certified technicians equipped with the right tools, products and parts, STMPFJ is prepared to get drivers in, out and back on the road again as efficiently and safely as possible. "Thorough preventative maintenance checks, standard truck services and dependable name brand tires are what fleet drivers can always expect from STMPFJ's teams," Boynton added.
[Related: Brake adjustment a sneaky Top 5 out of service violation thanks to misdiagnosis]