Trucking news and briefs for Wednesday, Sept. 15, 2021:
Two more guilty pleas, seven indictments in Louisiana staged-accident fraud scheme
United States Attorney Duane A. Evans has recently announced two more guilty pleas and seven new indictments in the widespread staged-accident fraud scheme in New Orleans, bringing the total to 40 indictments and 27 guilty pleas.
On Aug. 2, Genetta Israel, 53, of Houston, Texas, pleaded guilty to conspiracy to commit wire fraud. She and three others were charged with staging an accident on June 12, 2017, in New Orleans. Israel was allegedly recruited to participate in the scheme to obtain money through fraud.
Israel was treated by doctors and healthcare providers at the direction of an attorney also involved in the scheme and received a nearly $60,000 settlement from the staged crash.
On Aug. 11, Dewayne Coleman, 22, of Marrero, Louisiana, also pleaded guilty to conspiracy to commit mail fraud, stemming from a staged accident that occurred on Sept. 6, 2017. Coleman admitted that he was a passenger in a co-defendant's car being driven by another co-defendant who intentionally crashed into a tractor-trailer owned by Averitt Express.
After the staged accident, the driver exited the car and told another passenger to get behind the wheel to make it look like she was driving. Coleman retained counsel after the staged crash and received a $30,000 settlement for the accident.
In 2019, Coleman provided false testimony in depositions taken in conjunction with the lawsuit, allegedly lying about who was driving the car at the time of the staged accident and the extent of their injuries.
Finally, on Aug. 26, seven more individuals were indicted related to the staged-accident scheme. Ashley McGowan, Lertrice Johnson, Davienque Johnson, Herbert Allen, Troylynn Brown, Dion Ridley and Jarvis Brown were charged in a four-count federal indictment. All seven were charged in count one with conspiracy to commit mail fraud; McGowan, Lertrice Johnson and Davienque Johnson were charged in count two with mail fraud; and Allen, Troylynn Brown, Ridley and Jarvis Brown were charged in counts three and four with mail fraud. If convicted, the defendants face a maximum penalty of 5 years for count one and 20 years as to counts two-four.
The indictments stem from two incidents – one on June 8, 2016, when McGowan and the Johnsons staged an accident and allegedly lied in depositions; and the other on June 28, 2017, involving Allen, Ridley and the Browns, in which they also allegedly lied in depositions following a staged accident.
[Related: Staged accidents: Have you ever been in one you were convinced was set up?]
Transflo intros new document automation services
Transflo this week introduced Transflo Intelligent Automation (TIA), a suite of document automation services for carriers, brokers, factoring providers, shippers and more.
Transflo says its TIA "significantly cuts the number of the days it takes to bill customers and receive payment for services rendered." It also cuts down on hours spent by back-office personnel manually sorting and managing paperwork.
TIA extracts data from digitized freight documents like Bills of Lading, Proofs of Delivery, freight invoices, maintenance reports and hours of service logs. Drivers can upload these documents quickly on the road using the Transflo Mobile+ app.
The extracted data is automatically processed and delivered to pre-selected fleet personnel and integrated into accounting, invoicing, maintenance reporting, and transportation management system platforms. Documents are then automatically classified and indexed, and then uploaded for long-term storage within a web-based dashboard, the Transflo Portal, which serves as a single point of contact for invoicing, settlements, driver tools, and integrations with TMS platforms.
[Related: Volatile year shows growing pains for in-app freight pricing, value of negotiation]
'Virtual carrier' offers new packages for leased owner-operators
The CloudTrucks fleet announced several new offerings to its virtual platform, built in service of owner-ops leasing to the company. Two new additions, Flex and CT Cash Card, update its existing Business Intelligence dashboard and are aimed to streamline administrative bottlenecks and empower more drivers to keep more revenue.
The new Flex product line is geared toward small fleets and independent owner-operators looking to continue operating under their own authority rather than leasing to CloudTrucks. It incorporates a schedule optimizer, instant payments, fuel and maintenance discounts and personalized support.
"Our mission has always been to alleviate industry pain points that drivers experience on a daily basis, and we are now able to embrace a variety of drivers," said Tobenna Arodiogbu, CEO and Co-Founder of CloudTrucks.
While Flex accommodates a new demographic for CloudTrucks, any owner-op or fleet working with CloudTrucks can take advantage of the CT Cash and Business Intelligence products. CT Cash is designed for operators looking to get paid faster and alleviate cash-flow constraints. The service offers instant pay and cash card options in addition to receiving cash advances, as well as access to CloudTrucks' Business Intelligence dashboard.
The Business Intelligence dashboard is an extension of the virtual platform, providing a comprehensive breakdown of an operator's performance, personal expenses and revenue. Not only does Business Intelligence break down its metrics by a specific week, month or year, an owner-op's performance history can be tracked by gross revenue, revenue/mile and revenue/live mile. The dashboard provides itemized metrics on service fees, liability and cargo insurance as well as cash advances and total miles driven, among other performance categories.
[Related: Jason Hurley's real success leased to a 'virtual' carrier]
Autonomous tech firm Aurora unveils first self-driving Volvo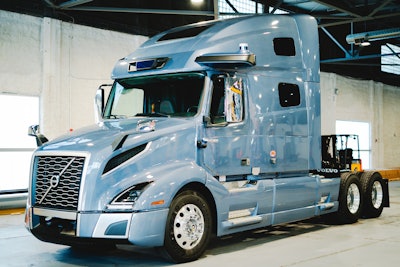 Self-driving truck startup Aurora this week shared a glimpse of its prototype Aurora-powered Volvo VNL.
Integrated with the Aurora Driver's sensor suite, the truck is the first Volvo designed to operate with the Aurora Driver, representing a significant step as Aurora and Volvo begin building commercial Level 4 autonomous Class 8 trucks at scale.
Aurora is leveraging the power of its Aurora Driver Development Program to structure the engagement with Volvo and maximize the combined team's strengths in world-class vehicle engineering, manufacturing and support, and autonomous vehicle technology development. The Aurora Driver Development Program leverages the "common core" design of the Aurora Driver to simultaneously deliver self-driving long-haul trucks and passenger vehicles. The Aurora Driver "common core" refers to how its hardware, software, infrastructure, and development tools are designed to work across all vehicle types. This commonality ensures that every learning, development, hardware improvement, and cost reduction made to the Aurora Driver benefits every vehicle it powers, which also allows for concurrent vehicle development.
Safely developing vehicles powered by the Aurora Driver for wide deployment, the company said, "is an extremely rigorous multi-phase process." This complex process is why Aurora is collaborating with Volvo to design the VNL architecture for its Driver and why these trucks will be manufactured on Volvo's own production line.
Over the next several months, Aurora will integrate its feature-complete hardware kit and test and validate Aurora-powered Volvo VNL trucks through its robust Virtual Testing Suite.