Trucking news and briefs for Wednesday, Dec. 1, 2021:
ATRI: Owner-ops fear decreased job satisfaction, income if reclassification legislation passed
A recent study by the American Transportation Research Institute into truck drivers' motivations for choosing a particular employment status – either company driver or independent contractor/owner-operator – found that forced reclassification, such as what could happen with California's AB 5 law, would have a negative impact on many owner-operators. The full survey report can be downloaded on ATRI's website. 
A total of 2,097 truck drivers responded to ATRI's survey, which was open from Aug. 18 through Sept. 17. The majority of respondents where either owner-operators leased to a carrier (49.2%) or owner-operators with their own authority (17%). The remaining 33.8% of respondents were company drivers.
The study found that the top motivating factors for why drivers made the decision to become owner-operators all had to do with freedom and independence. The top factors were: Independence/Ability to Set Hours, Schedule/Flexibility, and Choice of Routes/Length of Haul.
[Related: Owner-operators are not company drivers for a reason -- ABC test in practice, rush to get authority, more]
Among owner-operators, Healthcare/Retirement Savings ranked as the lowest motivating factor with fewer than 40% of respondents ranking it as important.
By contrast, the top motivations for drivers choosing to be company drivers were: Job Security/Stability, Income, and Healthcare/Retirement Savings.
If legislation having the effect of phasing out traditional lease arrangements for owner-operators, such as California's AB 5 law, are implemented and applied to trucking, owner-operators responded that they would experience significant decreases in job satisfaction and annual income if reclassified to company drivers.
One motivator for individuals to choose to be an owner-operator leased to a carrier, ATRI found, is the opportunity to leverage the carrier's resources and buying power to access things like fuel, equipment and administrative services. Among leased owner-operators, the most frequently cited programs from carriers they participated in were acquiring loads, fuel purchases/discounts, fuel taxes, and insurance.
Owner-operators indicated strong satisfaction with two pay methods – percentage of freight bill and per load. Among respondents who were paid by percentage of the freight bill, 80.8% reported being "Very Satisfied/Satisfied" with their income level. Among those paid on a per-load basis, 81.1% reported being "Very Satisfied/Satisfied" with their income.
[Related: Driver compensation, Part 3: Percentage pay is king for leased owners, long after the rise of miles post-deregulation]
Company drivers were also asked if they aspired to become owner-operators, and fewer than one in five indicated that desire. Among those who did want to become owner-operators, however, 84.9% believed they would see an increase in income, and 71.4% expected to see an increase in job satisfaction.
However, less than a third of company drivers who indicated they had been owner-operators in the past indicated that their income had decreased since becoming a company driver, and only 20.3% indicated that their job satisfaction had decreased.
New integration for third-party cameras in Samsara system
Samsara's new Camera Connector product enables side, rear, and interior vehicle camera feeds to connect to the company's Connected Operations Cloud, utilized by fleets for remote visibility into their trucks' operations. It's the first time the technology provider has been able to bring such cloud connectivity to third-party cameras. Companies can now use Camera Connector to bring existing vehicle camera investments into a single platform in their efforts to coach around potential safety incidents and protect against not-at-fault claims.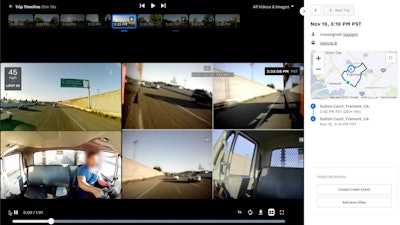 In addition to providing on-demand video evidence, Camera Connector integrates camera feeds into Samsara's video-based workflows for coaching and safety insights. 
Without the need to rip and replace existing camera systems, customers using Camera Connector can also experience efficiency gains when it comes to installation. 
[Related: Making the decision to accept your fleet's camera system -- or not]
Pilot raises $1.75M for veterans group
Pilot Company and its guests raised a record-breaking $1.75 million through a three-week in-store round-up campaign to benefit the Call of Duty Endowment, a nonprofit organization committed to placing military veterans into high-quality jobs after their service.
This amount more than triples the original 2021 goal of $500,000 and will support a brigade-sized group of veterans – more than 3,000 service members – in their search for employment.
As a part of its giving-back commitment, Pilot has partnered with the Endowment since 2019 to support the nonprofit's goal to help 100,000 veterans secure post-service employment by 2024. From October 25 – November 15, guests were invited to join the cause by rounding-up their change at the company's more than 750 participating U.S. travel centers, with 100% of the proceeds going directly to the Endowment. Pilot Company matched $100,000 of the donations.