Trucking news and briefs for Monday, April 18, 2022:
After slight improvement in February, trucking conditions expected to turn negative for March numbers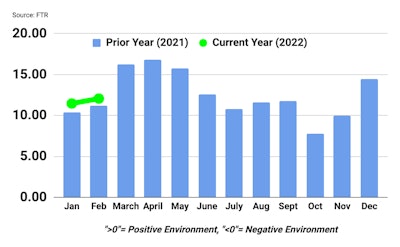 FTR's Trucking Conditions Index (TCI) strengthened marginally in February despite a sizable increase in fuel costs, as freight rates were strong and freight demand improved. The TCI increased to 12.06 from 11.46 in January.
The record surge in diesel prices during March almost certainly will send the TCI measure into negative territory for the first time since May 2020 once that data is finalized, FTR noted. The TCI is forecast to recover to positive territory in April and beyond, but signals of potentially weaker demand and rates than currently forecast could temper that outlook, especially if fuel costs remain volatile.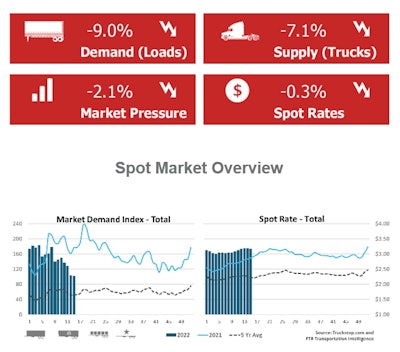 "The truck freight market has entered the inevitable period where conditions for carriers are transitioning from uniformly strong to those that will be more variable from month to month and from segment to segment," said Avery Vise, FTR's vice president of trucking. "Uncertainty is high on both the demand and supply sides. Consumers generally remain strong financially, but prices are soaring, which undercuts buying power."
Vise added that the implications of the spot market starting to normalize "are unclear owing to the unprecedented shift of volume and capacity into the spot market since the rebound in mid-2020. It is premature to declare doom and gloom for carriers or major relief for shippers, but both should be weighing threats and opportunities."
[Related: Is a 'freight recession' on the horizon?]
TA intros new fleet card program
TravelCenters of America has announced the launch of TA Fleet Universal, a new fleet card payment program, powered by WEX Inc.'s global commerce platform.
The new TA Fleet Universal card can be used at all 275 TA, Petro or TA Express travel centers and at 16,000 truck stops and 95% of retail fueling stations nationwide where WEX network cards are accepted. Cardholders may benefit from fuel and product discounts, and additional perks that will soon be available for TA's UltraOne Loyalty Program members as well.
"The TA Fleet Universal Credit Card program increases driver convenience and supports our commitment to enhance the guest experience nationwide," said Jon Pertchik, CEO of TravelCenters of America. "Engaging with WEX's powerful global platform allows us to provide professional drivers a competitive, quality program with many benefits and purchasing options when visiting us."
Two recalls affect 2,800 Western Star trucks
Daimler Trucks North America announced two recalls that affect more than 2,800 Western Star trucks, according to National Highway Traffic Safety Administration documents.
The largest of the two recalls includes approximately 2,288 model year 2021-2023 47X, 2020-2023 49X, and 2021-2022 57X trucks equipped with side air intakes on the hood. The stainless steel cover on the side air intake may loosen and detach from the vehicle.
Dealers will replace the stainless steel cover, free of charge. Owners can contact DTNA customer service at 1-800-547-0712 with recall number FL-925. NHTSA's recall number is 22V-227.
The other recall affects approximately 520 2020-2022 Western Star 49X trucks in which the windshield wiper linkages may break, causing the windshield wipers to fail.
DTNA has not yet established a remedy for the issue. Owners can contact DTNA customer service at 1-800-547-0712 with recall number FL-926. NHTSA's recall number is 22V-230.