Trucking news and briefs for Friday, July 1, 2022:
Hazmat loads banned on Alabama interstate this month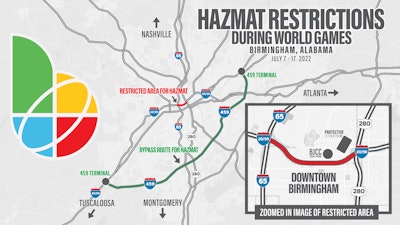 The Alabama Department of Transportation (ALDOT), under a directive from the U.S. Secret Service, will restrict all hazardous material cargo shipments on I-59/20 through downtown Birmingham during The World Games being held July 7-17.
The affected portion of I-59/20 is from I-65 to the east of the E. B. Stephens Freeway (U.S. Highway 31/280). The closure begins Thursday, July 7, and continues through Sunday, July 17. The Alabama Trucking Association said it's been told enforcement will be strict.
The World Games is an 11-day international multi-sport event organized with the support of the International Olympic Committee. An anticipated 3,600 athletes from all over the world will compete in 30 of the fastest-growing sports. Event organizers and city officials are expecting more than 500,000 spectators will come through the Birmingham area during the event.
With increased crowds and foot traffic underneath the raised portion of I-59/20, the Secret Service has placed a very-high-security level around the event in preparation for the many functions that will happen under or near the interstate bridges that rise over the Birmingham Central Business District, which includes Legacy Arena, Protective Stadium, and the Uptown Entertainment District.
ALDOT is already using digital message signs on various interstate routes to alert traffic. Static signs will also be placed in high-traffic areas. Carriers hauling hazmat cargo must use I-459 to bypass affected areas for pass-through destinations.
[Related: Roads 511: Highway information in real-time]
Motive, Navistar partner to help streamline fleet operations
Motive, formerly KeepTruckin, and Navistar announced this week a strategic partnership and future product integration that will connect Motive's Automated Operations Platform with Navistar's OnCommand Connection telematics and Advanced Remote Diagnostics systems.
The companies say their partnership combines thousands of vehicle data points to help fleets operate safer and more cost-effectively.
The strategic partnership will offer two types of integrations. First, Motive users will be able to streamline their fleet operations with access to data, including easy-to-read fault code descriptions, severity ratings and recommended parts and services from Navistar's OnCommand Connection (OCC) platform.
The added operations visibility will allow users to quickly diagnose and address potentially costly maintenance-related issues that too often derail timelines and drive up costs.
Second, Motive customers can expect improved fleet management with the ability to access data from Navistar's factory-installed devices on International trucks. These devices offer customers rich native telematics such as vehicle location, engine hours, tire pressure, brake and cabin temperatures, and lights status directly from the vehicle manufacturer.
[Related: KeepTruckin to leverage ELD data for freight matching, detention pressure]
TA raising money for St. Christopher Fund
TravelCenters of America is once again supporting the St. Christopher Truckers Relief Fund with its annual Round Up campaign, which is being held July 1 to Sept. 1.
Guests at participating TA, Petro and TA Express locations will have the opportunity to round up their purchase to the nearest dollar, with the difference being donated directly to SCF to help support truck drivers in need of assistance because injury or illness has taken them off the road within the last year.
"Providing support for the hardworking men and women who keep our country moving has always been a top priority for everyone at TA," said Jon Pertchik, CEO of TA. "While TA can provide truckers with everything they need when they are on the road, it is the amazing team at SCF that helps them when they are sidelined and cannot be on the road."
TA has been supporting SCF since 2010, raising more than $3 million through campaigns and initiatives, including the Round Up campaign, which is now in its third year.
Funds raised by SCF help professional drivers who find themselves in need of assistance while out of work due to a medical issue. In addition, SCF offers several other benefits for the driver community, including tobacco cessation programs, health and wellness guidance and free vaccines.
The promotion is not applicable in Alabama and South Carolina, TA noted.
[Related: Reinforcing the value of an old friend -- The St. Christopher 'Truckers' Fund].