Trucking news and briefs for Tuesday, Aug. 9, 2022:
Diesel's national average falls below $5
The national average for a gallon of on-highway diesel is below $5 for the first time since early March, according to the latest weekly update from the Department of Energy's Energy Information Administration.
During the week ending Aug. 8, diesel prices across the U.S. fell by an average of 14.5 cents to a national average of $4.99 per gallon. The last time the national average was below $5 was the week ending March 7, when the national average was $4.85 per gallon.
Prices have been falling since late June, losing 81.7 cents over the last seven weeks from diesel's peak of $5.81 during the week ending June 20.
Prices during the most recent week fell in all regions, with the most significant decrease being seen in the West Coast less California region, where prices fell by 17.5 cents, followed by California, which saw a 16.9-cent decrease.
The nation's most expensive diesel is still in California at $6.10 per gallon, followed by the Central Atlantic region at $5.38 per gallon.
The cheapest fuel can be found in the Gulf Coast region at $4.68 per gallon, followed by the Lower Atlantic region at $4.87 per gallon.
Prices in other regions, according to EIA, are:
New England -- $5.35
Midwest -- $4.96
Rocky Mountain -- $5.04
West Coast less California -- $5.22
ProMiles' numbers during the same week saw fuel prices fall by 8 cents, bringing its national average to $5.13 per gallon.
According to ProMiles' Fuel Surcharge Index, the most expensive diesel can be found in California at $6.35 per gallon, and the cheapest can be found in the Gulf Coast region at $4.76 per gallon.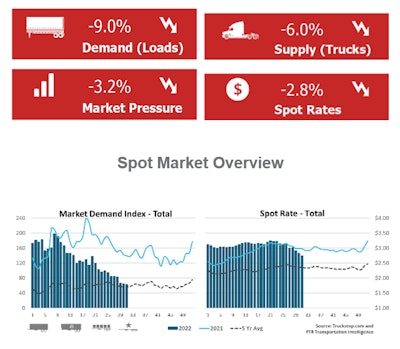 DAT launches new mobile app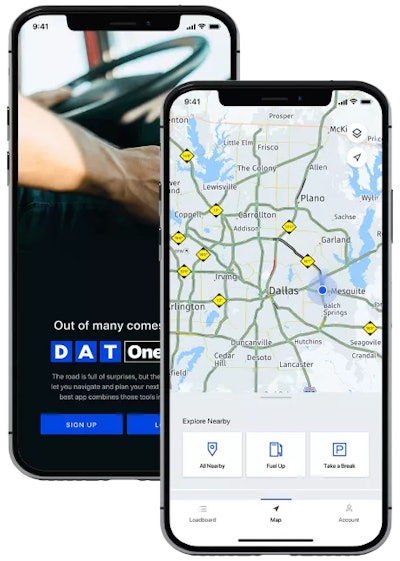 DAT Freight & Analytics on Tuesday announced the launch of a new product, the DAT One app.
Built specifically to help truckers find profitable loads and run their businesses successfully while out on the road, the new app includes all of the features of DAT's Load Board for Truckers, plus many more tools at no extra cost.
The DAT One app gives carriers access to the industry's largest load board network (DAT's Load Board), where 1.4 million loads are posted daily.
It features the load-finding capabilities of DAT's Load Board for Truckers mobile app but on a unified platform with integrated load tracking, improved search filtering, access to rate data, interactive mapping tools for profitable trip planning and the ability to post trucks with rates for better-targeted inquiries from brokers.
The DAT One app has been designed to give carriers the information they need and address the needs of any small trucking business to:
Find loads, no matter where they are
Easily find truck stops, service stations and rest areas
Save in monthly fuel costs with the fuel highlight feature
Post their truck with rates and understand market data to gain negotiating power and have more productive phone calls with brokers
See credit scores and company reviews for brokers
Get paid within 24 hours with factoring options
"With the DAT One app, I am free to leave the truck and decide to take a load from a broker without ever needing to use my laptop," said owner-operator Chad Boblett of Boblett Brothers LLC and founder of the Rate Per Mile Masters group on Facebook. "Most of my loads are from brokers calling me, and the DAT One app has allowed me to efficiently do my research on the load and broker as the calls come in."
Boblett added that he uses the DAT Directory, mapping tools and lane rate information to negotiate, and the new app consolidates all of those resources.
"Drivers told us they were constantly switching between as many as 15 mobile apps to do all the things they need to do on the road," said Claude Pumilia, DAT President and CEO. "We are solving app fatigue for carriers by giving them one unified app" for much of what they need a smartphone for.
Truck driver uninjured in I-80 shooting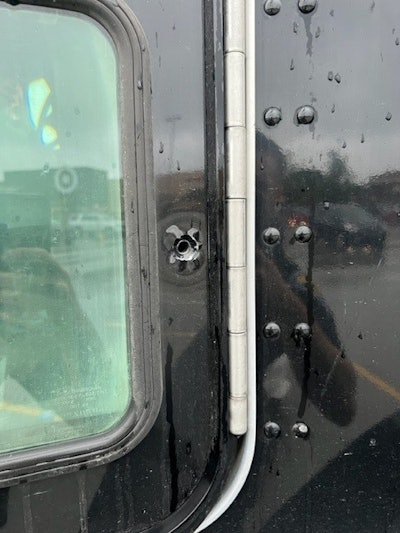 A truck driver was not injured in a Monday afternoon shooting on I-80 just east of the Illinois/Indiana state line.
According to the Indiana State Police, a truck driver called police to report a small gray passenger car with Illinois license plates had shot at his truck for no apparent reason.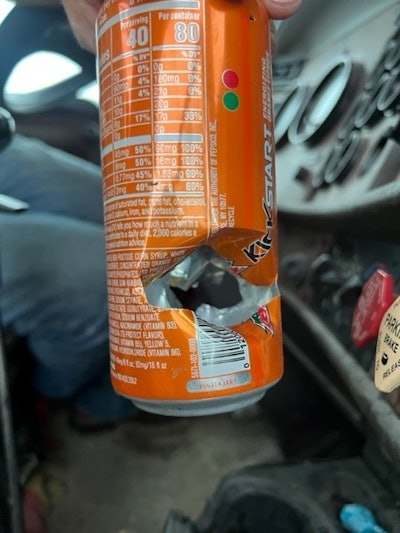 A state trooper arrived at the scene and discovered that there were two bullet holes in the truck.
Further investigation showed that one of the bullets entered the cab of the truck near the driver's legs and struck the cup holder and a Mountain Dew can. The bullet was able to be recovered. The driver was not struck.
Anyone with any information on the suspect or suspect vehicle, a gray Nissan with Illinois license plates, is encouraged to contact Trooper Landowski at 219-696-6242. Callers can remain anonymous.
[Related: 'Trucker spy' target tells the story of the shooting]
Pilot renovates six locations
Pilot Company has completed the full remodeling of six of its travel centers as part of its New Horizons initiative.
To commemorate the newly overhauled travel centers, Pilot teamed up with Monster to host a celebration with the "Monster Girls" and several giveaways at the site of the very first Pilot travel center in Corbin, Kentucky, which originally opened in 1981. This historic travel center now features a modernized exterior and interior with remodeled restrooms and is home to another first for the company -- its new Tex-Mex deli concept called Burrito Junction.
Pilot Company's chef and food innovation team spent two years testing and fine-tuning the "make it your way" Burrito Junction menu before its launch at the Pilot travel center in Corbin.
The new deli concept is open 24/7 to serve guests at all hours and features everything from customizable breakfast burritos in the morning to a full choice menu of burritos, tacos, bowls, and quesadillas that can be personalized with house-made guacamole, queso, salsa and an array of toppings.
Several more of Pilot's travel centers finished top-to-bottom remodels, incorporating feedback from professional drivers and guests to add more fresh food options and upgrade the overall store experience. In addition to overhauling the exterior and interior of each location, key improvements include:
Bakersfield, California: New kitchen for team members to prepare an expanded menu of fresh food, updated laundry facilities, and newly added quick-serve restaurant brands
Battle Creek, Michigan: Newly added deli with grab-and-go options for made-in-house hot and cold foods, expanded beverage selection, and updated check-out area
Cartersville, Georgia: Enhanced deli with grab-and-go options for hot and cold foods, expanded beverage selection, and fully remodeled Subway
Corbin, Kentucky: Upgraded deli with additional grab-and-go items, four new self-checkouts, and all-new Burrito Junction deli concept
Phoenix, Arizona: Upgraded deli with additional grab-and-go items, expanded beverage selection, and four new self-checkouts
Staunton, Virginia: New kitchen for team members to prepare an expanded menu of fresh food and grab-and-go cold items, expanded beverage selection, four new self-checkouts, and full remodeled Arby's
The three-year New Horizons project marks the company's most significant investment in store modernization to date, according to a statement from the company. It will fully remodel more than 400 Pilot and Flying J travel centers and make additional upgrades at several more locations across the country.