Trucking news and briefs for Wednesday, Sept. 21, 2022:
Diesel falls back below $5/gal, freight rates continue slide
The national average price for diesel fuel has fallen back below $5 per gallon after the Chicago-area BP refinery fire at the end of August led to a sharp increase in prices.
According to the Department of Energy's Energy Information Administration, diesel prices have been falling throughout September after jumping 20 cents during the last week of August. Meanwhile, a weekly freight-rates snapshot showed demand improvement but continued rates slide as van and reefer freight settle in nearer a "normal" at five-year rates averages.
The U.S.' average for a gallon of on-highway diesel is now $4.96, having fallen below $5 for the first time since that 20-cent jump.
During the most recent week ending Sept. 19, fuel prices fell in all regions, with the most significant decrease observed in the Midwest region, where prices fell by 9 cents.
The nation's most expensive diesel is still in California -- the only region with average prices higher than $6/gal -- at $6.15 per gallon, followed by the West Coast less California at $5.14 per gallon.
The cheapest fuel can be found in the Gulf Coast region at $4.69, followed by the Lower Atlantic region at $4.80. Prices in other regions:
New England -- $5.01
Central Atlantic -- $5.09
Midwest -- $5
Rocky Mountain -- $4.93
ProMiles' numbers during the same week saw fuel prices fall by 5.3 cents, bringing its national average to $5.01 per gallon.
According to ProMiles' Fuel Surcharge Index, the most expensive diesel can be found in California at $6.34 per gallon, and the cheapest can be found in the Gulf Coast region at $4.65 per gallon.
Spot market rates were falling at similar rates last week, too, continuing the fairly usual-for-the-season downward trend. That's a big departure from the rates gains of the last two years, however, with many carriers heavily reliant on spot freight feeling the squeeze.
[Related: Big owner-operator revenue gains this year wiped out wholly by fuel costs] .
Vans and reefers, according to the Market Demand Index weekly update of Truckstop.com and FTR Transportation Intelligence, have settled in quite close to the segment five-year average in those companies' tracking. Flatbed remained above, perhaps suggesting some of the last two years' gains could be more resilient for spot flatbed freight.
The picture overall was positive for trucking demand after a slow Labor Day week for spot load and truck posts.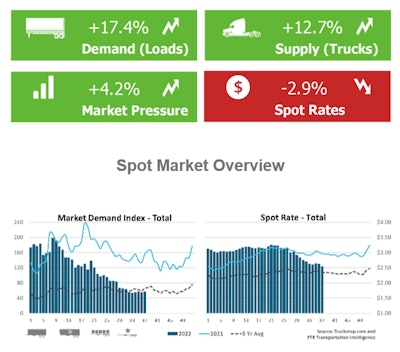 Driver named Highway Angel for stopping to help tanker driver who crashed
Stevens Transport driver Mike Noack, from Greenville, Texas, has been named a Highway Angel by the Truckload Carriers Association for stopping to help an injured trucker whose tanker crashed in front of him early one morning.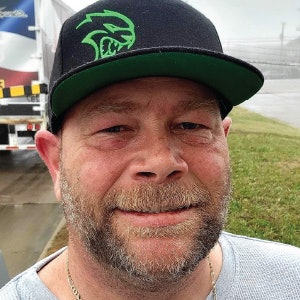 On July 27 around 1 a.m., Noack was driving on I-10 in Port Allen, Louisiana, when the tanker truck that he was following crashed into a ditch. Noack quickly pulled over, called 911 and then went to the truck to see if he could help.
"His windshield was blown off for the most part," Noack said. "He was pretty much pinned behind the dashboard; nice, big old gaping gash on his head and arm completely snapped right at the elbow."
Due to the position of the truck cab and driver, Noack couldn't pull him out of the vehicle, but stayed with him until emergency personnel arrived, which took about 10 minutes. The driver was conscious and Noack, who has been a truck driver for eight years, was able to keep him calm while they waited.
"I just stayed with him and reassured him that everything would be alright," he said. "I hope if that were ever to happen to me, somebody stops for me."
NTP acquired by finance and insurance firm
National Truck Protection, a provider of used-truck aftermarket warranties and more, has been acquired by finance and insurance firm JM Family Enterprises, the companies announced this week.
Building on JM Family's long history in the automotive industry and its commitment to helping other businesses succeed, the acquisition is the first significant one in the company's core automotive business in recent years.
"We are thrilled to welcome National Truck Protection and its 76 associates to JM Family," said Brent Burns, president and CEO of JM Family Enterprises. "Our goal is to strategically leverage our strong culture and core competencies, taking advantage of the synergies that exist between us to ensure the continued success for National Truck Protection and their customers."
Since they both currently operate in the finance and insurance space, the companies said they will benefit from sharing best practices and collaborating on new products to best serve their customers' needs.
Founded in 1983, NTP will continue to operate as a standalone company and maintain its headquarters in Winston Salem, North Carolina.
[Related: Given sky-high repair costs, used-truck warranties more potentially valuable than ever]