Trucking news and briefs for Friday, Oct. 7, 2022:
Trucking jobs took a dive in September
The Bureau of Labor Statistics released its monthly Jobs Report on Friday, and preliminary numbers show payroll employment in trucking taking a dive unlike anything seen since the dawn of the pandemic.
Overall, September represents a big reversal of the prevailing trend, shown in the chart above -- payroll trucking employment had crashed at the onset of the pandemic, crept back up throughout 2021 to above pre-pandemic levels, remained almost flat through Summer 2022, and now has moved back down.
FTR Vice President of Trucking Avery Vise said the drop was "certainly a surprise," seeing as pre-employment queries of CDL drivers in the drug and alcohol clearinghouse in August hit an all-time high (or at least since it began in January 2020), which should normally indicate a surge in active hiring. Vise said that an "unprecedented surge in payroll [trucking] jobs during Q2" may have set up September's drop, and that it might be an outlier. However, other metrics like diesel consumption and intermodal volumes may point to "weaker-than-anticipated freight activity" -- at once, he cautioned against drawing too many results from September's preliminary numbers.
Of course, payroll employment in trucking doesn't account for the entire workforce, as any owner-operator can attest. The pandemic has seen an explosion in new for-hire trucking companies. Recent reports have shown owner-operator revenues up, but costs eating into income and some independents returning to leasing on with companies. Vise said "September saw more than 8,200 new trucking companies, which was marginally higher than the number in August" and about 5,000 higher than the pre-pandemic norm, and California's AB 5 law could be driving those numbers.
"The state's share of new trucking companies has risen for three straight months to the highest percentage since August 2020, suggesting that trucking companies are increasingly adopting a brokerage model to replace leased owner-operators in their non-asset capacity," said Vise.
Total non-farm payroll employment in the U.S. increased by 263,000 in September, according to BLS. Monthly job growth has averaged 420,000 so far in 2022, compared with 562,000 per month in 2021. In September, notable job gains occurred in leisure and hospitality and in health care.
Transportation and warehousing as a whole saw a monthly decrease of 7,900 jobs in September, with trucking's loss offset in part by air transportation, which added 2,800 jobs; and support activities for transportation, which added 4,900 jobs.
[Related: Big owner-operator revenue gains entirely offset by the cost of fuel]
Georgia prepping drivers for 'profound' delays with long-term I-285 lane reductions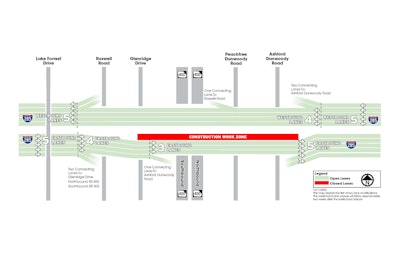 The Georgia Department of Transportation is planning to close one lane of I-285 Eastbound as early as Saturday, Oct. 8, as part of the ongoing Transform 285/400 interchange reconstruction project.
The lane closure will be between Roswell Road and Ashford Dunwoody Road for bridge demolition and reconstruction at Glenridge Drive, State Route 400, and Peachtree Dunwoody Road.
The closure of one lane in the westbound direction will follow approximately two weeks later.
The bridge replacements and associated I-285 lane closures eastbound and westbound will take at least eight months to complete and are expected to cause extreme delays on I-285 around and approaching the work zone, GDOT said.
"The traveling public should expect major disruptions to their daily commutes and driving routines during this time and should be prepared for profound delays on I-285, potentially adding an hour or more to daily commutes," GDOT Alternative Delivery Program Manager Marlo Clowers said. "We urge motorists to leave earlier, utilize navigation apps to select alternate routes to stay away from the construction area, and consider alternative commute options. If traveling through the area, always pay attention and use extreme caution."
Lane closure schedule confirmation will come after certain I-285 construction milestones open to traffic, ensuring motorists know what to expect and when. These anticipated openings will provide some additional capacity for vehicles and maximize all new connecting lane availability outside of the existing interstate lanes.
The project includes the following phases:
Phase 1: Inside lanes will close on I-285 in each direction between Roswell Road to Ashford Dunwoody Road, so crews can reconstruct the interior portions of the I-285 bridges over Glenridge Drive, SR 400, and Peachtree Dunwoody Road. A minimum of three lanes will be open in each direction. This phase will take approximately four months.
Phase 2: Traffic will shift to the inside lanes providing width for three travel lanes and the existing outside lanes will close to traffic so crews can demolish and reconstruct the exterior portions of the bridges. This phase will take approximately four months.
Georgia DOT has developed a video explaining the lane reductions and providing suggestions for motorists to consider when making plans for navigating around them:
Convoy survey details small-fleet opinions on trucking sustainability
Digital freight matching platform Convoy recently conducted a survey to collect a snapshot of sustainability in trucking, surveying 588 small- and mid-sized trucking companies across the U.S.
Among respondents -- which include owner-operators (56%), dispatcher-drivers (18%), dispatchers (17%), drivers (4%) and others (6%) -- owner-operators felt the least amount of pressure to reduce carbon emissions compared to other respondents. Those most concerned about lowering carbon emissions included drivers (42%) and dispatcher-drivers (41%), who were described by Convoy as those who dispatch other drivers and drive their own loads. Only 29% of owner-operator respondents felt pressure to reduce carbon emissions.
Convoy also found that across all roles surveyed, one in five respondents are tracking and reporting carbon emissions today. Owner-operators were the segment of respondents with the fewest currently tracking and reporting carbon emissions at 19%.
The survey revealed that 80% of survey respondents rated fuel economy as very important when buying a truck with nearly 70% of respondents planning to buy a new truck in the next three years.
With fuel economy in mind, more than a third of respondents were interesting in buying electric or hydrogen trucks. For carriers interested in purchasing an electric truck, they are most excited to drive the Tesla Semi and Freightliner eCascadia, tied at 17% each, followed by Kenworth at 10% and Peterbilt at 8%.
Carriers also noted that the biggest barrier to entry into the electric/hydrogen truck market is cost, with 55% of carriers saying such trucks are too expensive. Carriers were also concerned about the limited charging or refueling infrastructure (37%) and the time it takes to fuel or charge (37%). Range anxiety (32%) was also a highly-rated concern.
[Related: Electric trucks garner little interest from truck owner-operators, despite growth projections]