Trucking news and briefs for Wednesday, Oct. 12, 2022:
Diesel prices jump 39 cents after hitting lowest national average since February
For just the second time since the end of June, the national average diesel price saw a weekly increase during the week ending Oct. 10, according to the Department of Energy's Energy Information Administration.
The rise follows production cuts announced a week ago by OPEC and OPEC-aligned nations in Vienna, and came amid a decent week for spot market freight in the U.S. The latter is according to Truckstop.com and FTR Transportation Intelligence's weekly spot market update, where rates gains in the Southeast post-Hurricane Ian led a small national rise.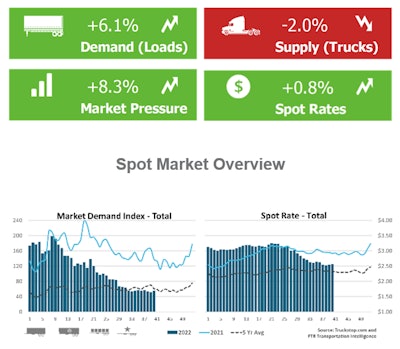 Fuel prices had fallen to their lowest national average since the onset of the Russian invasion of Ukraine, sitting at $4.84 per gallon during the week ending Oct. 3. That was the lowest national average since the week ending Feb. 28, when prices averaged $4.10 nationwide.
During the most recent week ending Oct. 10, however, prices skyrocketed back above $5 a gallon to $5.22 per gallon -- the highest weekly average since the end of July.
All regions during the week saw a significant increase in diesel prices, with the largest increases being seen in the West Coast less California region (45.8-cent increase) and the Midwest (45.1-cent increase).
California is home to the most expensive diesel at $6.49 per gallon, followed by the West Coast less California at $5.52 per gallon.
The cheapest diesel across the U.S. can be found in the Gulf Coast region at $4.90 per gallon, followed by the Lower Atlantic region at $5.06 per gallon.
Prices in other regions, according to EIA, are:
New England -- $5.15
Central Atlantic -- $5.33
Midwest -- $5.27
Rocky Mountain -- $5.20
ProMiles' numbers during the same week saw fuel prices increase by just 4 cents, bringing its national average to $4.93 per gallon.
According to ProMiles' Fuel Surcharge Index, the most expensive diesel can be found in California at $6.39 per gallon, and the cheapest can be found in the Gulf Coast region at $4.56 per gallon.
Spot market freight rates rose most significantly for loads originating in the Southeast region post-Hurricane Ian, FTR and Truckstop.com noted. Southeast rates were up about 8 cents, or 3.5%, while rates in other regions were either down or increased only slightly. Another possible factor could be the ongoing shift in imports from West Coast ports to East Coast ports like Savannah. Total spot rates were down about 10 cents, or 4.5%, on the West Coast.
Segment performance was similarly mixed. Dry van and reefer rates' rise offset some of the week's fuel hikes, with 4- and 3-cents/mile gains, respectively. Flatbed, however, was mostly flat to a fraction of a cent down nationally.
[Related: This year's spot-market slide, and an owner-operator return to the refuge of leasing]
Trucking law enforcement group urges states to address truck parking
The American Trucking Associations' Law Enforcement Advisory Board (LEAB) on Tuesday sent a letter to all 50 governors and state departments of transportation urging them to apply for federal funds to expand truck parking capacity.
A nationwide shortage of truck parking has created a growing highway safety issue, the group said, as truck drivers are often forced to park in illegal or unsafe locations when authorized parking is unavailable.
"Law enforcement organizations across the country, from local police departments to statewide patrols, are impacted by this issue and have seen firsthand how the truck parking shortage jeopardizes road safety for all motorists," said Fred Fakkema, LEAB chairman and vice president of safety & compliance for Zonar Systems, who previously served 25 years in the Washington State Patrol. "The U.S. Department of Transportation is offering federal funds to help expand truck parking capacity, and we encourage states to capitalize on these resources now while they are available."
On Sept. 29, U.S. Transportation Secretary Pete Buttigieg sent a letter to ATA President and CEO Chris Spear pledging the Administration's commitment on the issue and detailing various competitive grant programs under the Bipartisan Infrastructure Law that can fund truck parking projects. The U.S. Department of Transportation also issued official guidance on funding eligibility requirements for states as they plan new truck parking projects. In recent weeks, Florida and Tennessee were awarded INFRA grants by USDOT totaling $37 million to expand truck parking capacity.
"Truckers need accessible parking options to move the economy's freight safely and efficiently," said said Derek Barrs, LEAB industry outreach advisor and senior manager at the HNTB Corporation. "This issue is critically important -- not just to drivers, but to patrolmen, troopers and officers as well. It is a top priority for our Law Enforcement Advisory Board, and we'll keep working it until the parking shortage is meaningfully addressed." Barrs previously served as chief of the Florida Highway Patrol's Office of Commercial Vehicle Enforcement.
ATA's Law Enforcement Advisory Board is a working group comprised of trucking industry professionals who have previous law enforcement experience, as well as current and retired law enforcement officers with experience on trucking issues. The 37 current members of LEAB combine for more than 900 years of law enforcement experience.
[Related: Truck parking at home: When local governments say no]
New Kenworth dealership opens in Idaho
Kenworth Sales Company recently held a ribbon cutting and grand opening celebration at its new Post Falls, Idaho, location at 4373 W. Expo Parkway.
The 42,000-square-foot facility sits on 10 acres, with convenient visibility and access to I-90. It offers 14 full-service bays, six body shop bays with state of the art frame rack plus a full-length paint booth, full service alignment center utilizing Hunter alignment equipment, and 9,000- square-foot warehouse with an expanded parts inventory.
Kenworth Sales Company Board Director Elliott Morgan and Post Falls Mayor Ron Jacobson joined Kenworth Sales Company District Manager Wayne Beal for the ribbon cutting.
"This new store will allow us to better facilitate the needs of our customer base in the Post Falls and Northern Idaho area," said Kenworth Sales Company District Manager Wayne Beal. "Kenworth has been servicing this area for many years. We are always looking for ways to better serve our customers and look forward to enhancing customer experience with this new, state of the art location."